SedonaKind Season of Kindness includes Village of Oak Creek
Originally Published: November 1, 2023 12:05 a.m.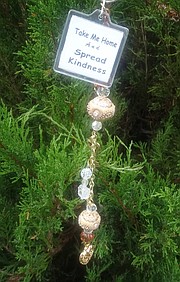 For the eighth year, the City of Sedona honored SedonaKind with a Proclamation making Nov. 13 Sedona Kindness Day, aligning with World Kindness Day. Over the years SedonaKind Day has expanded from a single day to Sedona Kindness Week, and now to a full "Season of Kindness." It is good news that in these troubled times our community increasingly embraces acts of kindness. For this year, SedonaKind is offering the following special events:
During the first week of November, SedonaKind will begin placing the popular Gratitude Trees all around town. You can find them in the Sedona Library Children's Room and main room, the Village of Oak Creek Library, Yavapai College, Sedona Community Center, West Sedona and Oak Creek Schools, Alma de Sedona Inn and at Sedona Winds Assisted Living. Residents and visitors alike can write down their thoughts of gratitude on the special ornaments that decorate the trees.
Also in November, SedonaKind 'Charmers' will blanket the town with Kindness Charms. The charms are individually created from donated jewelry. Each one includes a heart and a tag that says, "Take me home and spread kindness." SedonaKind volunteers have placed more than 8000 charms all around the world. Keep your eyes open and find yours!
On Nov. 13, Sedona Kindness Day, the Sedona International Film Festival will screen the gorgeous and inspiring documentary, "Liyana," at the Mary D. Fisher Theater at 4 and 6:30 p.m. You can view the trailer and purchase tickets at SedonaFilmFestival.org or by calling the box office at 928-282-1177. This multiple award-winning film celebrates teachers, art, and the power of storytelling and myth to heal wounds and empower children. Don't miss it! The screening is a fundraiser to help SedonaKind continue its projects, especially their work with schools, teachers and the children in Sedona. A generous anonymous donor will match all donations at this event.
During this Season of Kindness, volunteers will deliver Blessing Bags to Post 7400 in Cottonwood for homeless veterans. For this signature SedonaKind project, volunteers fill each bag with warm socks, gloves, a hat, personal hygiene products and a food gift card. Our volunteers also will deliver cuddly warm pet blankets to the Sedona Community Center for locals and their animal buddies.
SedonaKind is partnering with the Sedona Library to offer kindness activities for the community. On Nov. 18, at the Sedona Library from 11 a.m. to noon, you can help paint kindness thoughts on rocks for the garden.
On Nov. 29, at the Sedona Library in the Village of Oak Creek, you can join renowned Sedona artist Mary Helsaple to make unique watercolor kindness cards. Drop in when you can from 11:30 a.m. to 4:30 p.m.
Also on Nov. 29, 2-3 p.m., at the main Sedona Library, there will be a "Take a Kindness Message/Leave a Kindness Message" activity for all ages.
As a "Thank You" for keeping our school children safe, hand-crafted Thank-You Cards with a gift card will be delivered to all our wonderful school bus drivers in Sedona.
SedonaKind has members who are amazing knitters. For the past eight years, they have been knitting colorful, warm hats for our area school children at Thanksgiving. Over the years, these knitters have made more than 5000 hats to warm little heads. This year, they will take nearly 700 hats to the school children at West Sedona School and Oak Creek School, with the extras going to Manzanita Outreach, children on the Reservation, and House of Ruth.
For more information, visit SedonaKind.org.

---
SUBMIT FEEDBACK
Click Below to: