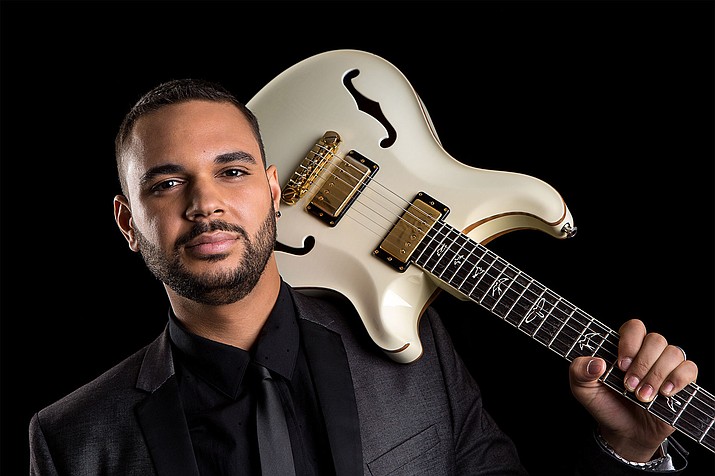 ---
---
It's a Jazz Greats series grand finale' this weekend at Sound Bites Grill featuring jazz luminaries Dee Lucas and Adam Hawley on the Sound Bites Grill Celebrity Showroom stage bringing the popular series to a finger-snapping end.
On Friday, Nov. 10, starting at 7 p.m., get ready for a musical journey like no other as the sensational jazz artist Dee Lucas takes the stage.
Lucas is set to deliver a mesmerizing performance that will leave you tapping your toes and swaying to the smooth rhythms of his saxophone.
With a career spanning over two decades, Dee Lucas has become a renowned figure in the world of contemporary jazz. His melodic and soulful sound is a true testament to his dedication and passion for the genre. Lucas' music seamlessly blends elements of jazz, R&B, and funk, creating a unique and unforgettable sonic experience.
In 2022, Lucas released two singles as preludes to the album release titled 'Hot Ice' featuring keyboardist Gino Rosaria and 'Sir Dee' (a musical salute to legendary Stevie Wonder).
Both singles hit No. 1 on several smooth jazz charts and has become an instant fan favorites. These two hits are on his 10th album "No Boundaries" that was released on March 10.

The current hit single in the smooth jazz format is titled 'Stay Strong' which features the talented bassist Blair Bryant. In addition to his current smooth jazz offering, Lucas released another single (5/5/23) on the R&B format called 'Love Is Enough' which features the amazing vocal stylings of Selina Albright. This single garnered the attention of several markets in the UK and recently peaked at #9 on the indie R&B charts.
Sedona's stunning backdrop, combined with Dee Lucas' enchanting melodies, promises an unforgettable evening. Whether you're a seasoned jazz enthusiast or just looking for a night of exceptional live music, Dee Lucas' gig at Soundbites Grill is not to be missed.
On Saturday, Nov. 11, from 7 to 9 p.m. Adam Hawley keeps the groove going. With ten number-one Billboard hits under his belt this prolific recording artist will heat up the Sound Bites stage with his energetic performance style.
Enjoy the music of this talented artist and a great dinner in the classy, jazzy atmosphere of Sound Bites Grill's NYC night club like ambiance, up close and personal.
Guitarist Adam Hawley is a gifted performer, sideman, and educator, known for his lithe, groove-oriented approach to contemporary jazz and R&B.
After working steadily for over a decade with many marquee jazz and pop artists, Hawley launched his solo career with his breakthrough 2016 debut album, Just The Beginning which featured three chart-topping smooth jazz singles including "35th Street," "Joy Ride," and "I Don't Mind."

He has remained a Top 30 Billboard Jazz regular with albums like 2018's Double Vision and 2020's Escape. His fourth album arrived in 2021.

Sound Bites Grill is located at the Shops at Piñon Point adjacent to the Hyatt in Sedona. For more information please visit SoundBitesGrill.com or call 928-282-2713. Tickets can be purchased via their Website. Some shows are ticketed events.