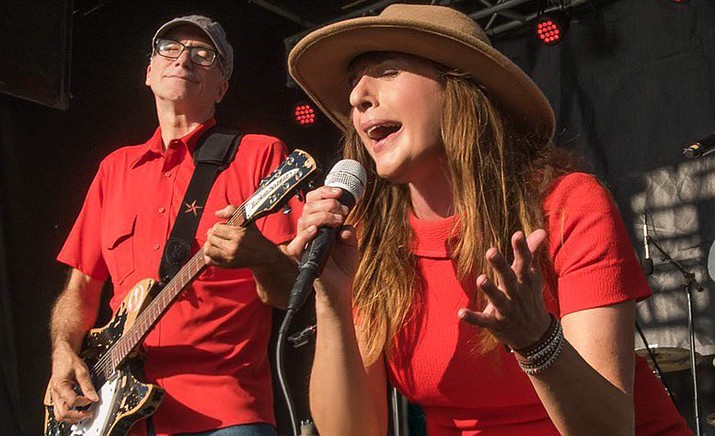 ---
---
Back by popular demand: The Sedona International Film Festival announces award-winning recording duo Sirsy will be performing live in concert Thursday, Nov. 16, at the Mary D. Fisher Theatre in Sedona.
The evening will kick off with a performance from Sedona's own Sugar Moon who will take the stage at 6 p.m. Sugar Moon is a dynamic female led band, playing pop/country/blues hits to get you singing & dancing.
Then, Sirsy will take the stage.
It's hard to imagine a sound this big coming from just two people. The Boston Globe calls Sirsy the "little band with the big sound." Fans call them the little band with big heart.
Hailing from Upstate New York, Sirsy is a sassy pop-rock duo with folk intimacy. Sirsy is known for their passionate, honest, heartfelt live performances that have a charming intensity and loads of stories from the road.
Playing more than 200 shows per year all over the US, Sirsy is fronted by charismatic singer-songwriter and drummer Melanie Krahmer (who also plays bass on a keyboard with her drumstick). Mel's incredible voice is one of the most powerful and flexible voices you'll ever hear. She also plays piano, melodica, and the occasional flute solo too.
Mel's bandmate, husband, co-writer and bestie is Rich Libutti. Rich masterfully plays a well-loved and road worn Rickenbacker through a pedal board full of vintage effects. Rich also plays bass (and at live shows often does it on a pedal board with his feet).
These two multi-instrumentalists manage to sound like a full band and somehow do it all with big smiles on their faces. Their clever smart songs have more hooks than a tackle box, with lyrics that center around empowerment and resilience. Fans have supported the duo through the pandemic, their 11 records, and Mel's two bouts with cancer. Every show is like a celebration for this couple and their fans.
Sirsy has warmed stages for Brandi Carlile, Grace Potter, Maroon 5, Train, Collective Soul, Cheap Trick, Lifehouse, The Spindoctors, Shovels & Rope, Blues Traveler, Patty Smyth and many more. Their songs have been featured on HBO, PBS, MTV, and on Showtime's hit TV show "Shameless". Their last several records were produced by Grammy-Winner Paul Q Kolderie.
The SXSW Music Blog says "Sirsy's not just a 2 piece but a head scratching WOW!" And the Houston Music Blog says "Sirsy makes edgy feel-good music that's fun to watch. You must see them live!"
"Sirsy is your favorite band, you just don't know it yet." – Rochester City Newspaper
Tickets are $15 in advance and $20 at the door. All tickets include a meet-and-greet with Sirsy and Sugar Moon in the lobby after the show.
For tickets and more information, please call 928-282-1177. Both the theatre and film festival office are located at 2030 W. 89A, in West Sedona. For more information, visit SedonaFilmFestival.org.