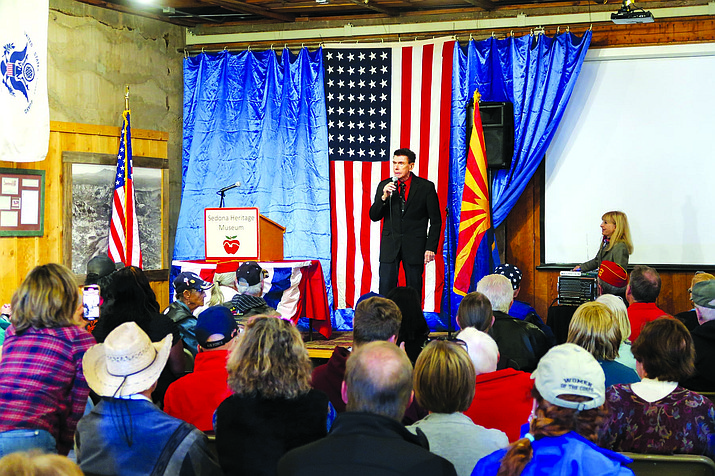 ---
---
The Sedona Heritage Museum will host its annual Veterans Day Tribute on Saturday, Nov. 11, at 11 a.m.
Veterans from every branch of the U.S. military, active military, family, friends, supporters, and residents who want to show their appreciation for our nation's veterans are invited to attend this annual event.
Shondra Jepperson will act as emcee for the program. Tom Jepperson and Jeanie Carroll will perform patriotic songs. Bugler Brad Moors, retired Master Sergeant from The United States Army Band "Pershing's Own," will play "Taps." Moors served as a bugler at the Tomb of the Unknowns in Arlington National Cemetery.
Speakers will include Sedona Mayor Scott Jablow and veteran Doug McDaniel. McDaniel is an Air Force veteran who served 9 years of active duty and 12 years in the reserves. He joined the Air Force in 1963 after graduating from the ROTC program, serving in Vietnam as a navigator on refueling and cargo missions. McDaniel will discuss the "miraculous events he encountered" during his time in the Air Force.
The Sedona Area Veteran & Community Outreach (SAVCO) organization is proud to participate in this year's program and the opening flag ceremony. SAVCO traces its roots to the Sedona Marine Corps League Detachment 1237. A 2021 name change and bylaws rewrite were required so that members of all military branches, as well as civilians, could fully participate in the running of this non-profit organization. SAVCO assumed all prior missions and responsibilities of the Marine Corps League which include supporting Toys for Tots, 89 Flags on 89A, Sedona High School graduate scholarships, as well as adding a Veterans Assistance Program, and a mile on 89A for which SAVCO acts as Litter Lifters. SAVCO's motto of Continuing to Serve is evident in all of these community driven programs and much more. SAVCO meets at 6 pm on the second Thursday of the month at the Sedona Community Center. For more information visit the SAVCO website at Savco.org
The Oak Creek Chapter of the Daughters of the American Revolution will assemble a parade of American flags at the entrance to the Sedona Heritage Museum.
Members from several organizations which provide essential services to our veterans will be on hand, including Catholic Charities/Veteran Assistant Program, Sedona Elks Lodge, SAVCO Toys for Tots, Matforce Assistance Program, Habitat for Humanity, Health First Foundation, and Sedona Community Food Bank.
The program will take place in the historic Apple Shed. Lunch will be provided by The Golden Goose American Grill, a veteran owned local business. The event is underwritten by Joan Miller. The program and lunch are free for attendees. Also free is shuttle service to bring attendees to the event from nearby parking lots.
The Sedona Historical Society operates the Sedona Heritage Museum located in Jordan Historical Park, 735 Jordan Road in Uptown Sedona. Open daily 11 a.m.–3 p.m. For more information call 928-282-7038 or visit SedonaMuseum.org.