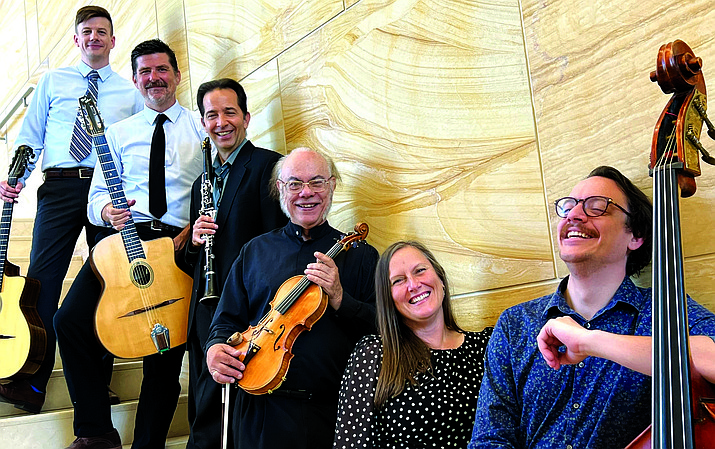 ---
---
Whatever you call it, you are going to love it. On Nov. 11, ZAZU West will bring Gypsy Jazz, sometimes known as Django or French Swing, will intrigue and sweep you away.

ZAZU West is Phoenix's premier ensemble dedicated to Gypsy Jazz, the style devoted to the legacy of guitar legend Django Reinhardt. Gypsy Jazz, Jazz Manouche, French Swing. Whatever it's called, the sound is infectious, swinging, and unmistakably Django.
Whether playing the dozens of iconic Django compositions, traditional and contemporary jazz standards in the Gypsy Jazz style, or the music of today's Gypsy Jazz greats in Europe and the U.S., ZAZU West creates a unique performance experience.
Based in Phoenix Arizona, ZAZU West is excited to be carrying on the "ZAZU" Gypsy Jazz tradition started in Arizona in 2004 with the same unforgettable ingredients: irresistible swing, melancholy dark and moody highlights, and improvisation with reckless abandon.
ZAZU West is the newest Phoenix-area permutation of Gypsy Jazz band ZAZU, founded by bassist Steve Douglas and guitarist Lake Aurich as "Musette" in December of 2004. Shortly after forming, ZAZU added guitarist Larry Czarnecki and played in that trio lineup for many years, often adding violinist Allen Ames, who performed as a special guest and on ZAZU's first album recording, The Soul of Paris, a double CD released in July of 2009.
In 2014, guitarists Ryan Vance and Mike Fowler joined ZAZU, performing with Steve and special guests in and around Southern Arizona while Lake and Steve would continue to play Northern Arizona with Ryan and others. During this time special guests often included Allen, along with frequent appearances by clarinetist Jeff Quamo and violinist/trumpet player Devon Bridgewater.
In the summer of 2019, Steve relocated to the East Coast and ZAZU West was born with the idea of keeping the ZAZU tradition alive while leaving the door open for a ZAZU East once Steve recruits another Django army back East.
Since 2019, Vincent Thiefain has been a mainstay on bass and in 2021 vocalist Constance Genter began performing with ZAZU West, adding a wonderful new layer. Other players who have performed with ZAZU include Ryan Picone, Marc Lingle, Bailey Zick, Jeff Schalau, Brian Sanders, Ioannis Goudelis, Stephanie Groot, Vincent Ziegelbaum, and Mike Hall.
ZAZU West is influenced by Django Reinhardt (of course), Stochelo Rosenberg/The Rosenberg Trio, Birelli LaGrene, John Jorgenson, Frank Vignola, Howard Alden, Stephane Grappelli, Stephane Wremble, Joscho Stephan, Hot Club of San Francisco (Paul Mehling), Tchavalo Schmitt, Dorado Schmitt, Angelo Debarre, Adrien Moignard, Gonzalo Bergara, Wawau Adler, and Stefan Hall.
Old Town Center for the Arts Is located at Fifth Street & Main in Old Town Cottonwood. Tickets for ZAZU WEST in Concert are $25 in advance, $30 at the door, and $35 for priority seating in the first three rows. Tickets are available online at showtix4u.com. For ticket prices and more information about these and other upcoming events, visit OldTownCenter.org, or call Elena Bullard at 928-634-0940.