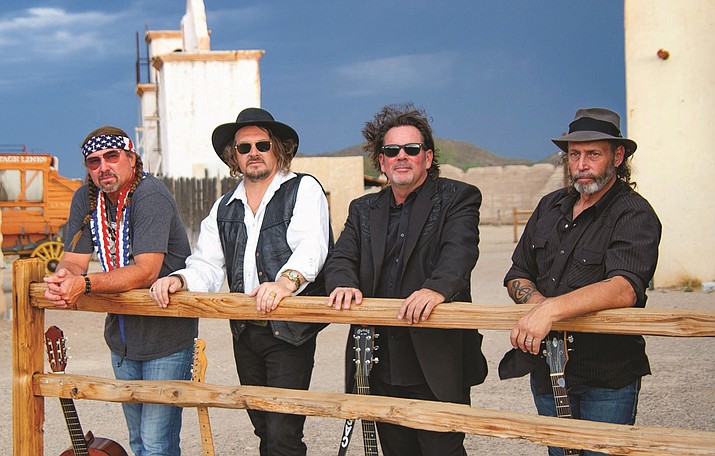 ---
---
If you enjoyed the music of the original super group, composed of four of country music's biggest artists who pioneered the outlaw country subgenre: Johnny Cash, Waylon Jennings, Willie Nelson, and Kris Kristofferson, this is the concert for you. How about spending the evening enjoying the Arizona Highwaymen Tribute Band? Join us for this great group for one night only, Nov. 18 at 7 p.m. at the Old Town Center for the Arts.
Before You Go...
What: Arizona Highwaymen Tribute Band in Concert
When: Saturday, Nov. 18, 7 p.m.
Where: Old Town Center for the Arts, 5th Street & Main, Cottonwood
How Much: $25 adv, $30 door, $35 Priority seating in the first three rows
More info: (928) 634-0940 OldTownCenter.org
The Arizona Highwaymen celebrate the music, chemistry, camaraderie, and the fun of one of the most iconic and entertaining Super Groups of all time. You can look forward to a diverse repertoire that pays homage to the rich musical heritage of the American West. Drawing inspiration from, and featuring the music of Johnny Cash, Waylon Jennings, Willie Nelson, Kris Kristofferson and of course, the music from The Highwaymen group recordings. The Arizona Highwaymen infuse classic tunes with a modern twist resonating with both traditional country music aficionados and contemporary music lovers alike.
Just like the Original Super Group, The Arizona Highwaymen is made up of four artists, with attention to detail and proven musical careers that have united to create this truly special show. Members of the Arizona Highwaymen have established music careers in multiple notable groups, they are: Ken Ronk as Willie Nelson, Brian Hauser as Johnny Cash, Jared Blackstone as Waylon Jennings, David Allen Vogelbacher as Kris Kristofferson , Drums: Michael Mule, Slide Guitar: Todd Irrer, Bass: Barton Applewhite. Each member of the group brings their own distinctive style to the ensemble, creating a powerful synergy that leaves fans on the edge of their seats.
The Arizona Highwaymen are no strangers to captivating audiences with their dynamic performances and incredible musical prowess. Don't miss your chance to hear all the great hits and songs that you love and remember performed by The Arizona Highwaymen!
Old Town Center for the Arts Is located at 5th Street & Main in Old Town Cottonwood. Tickets for the Arizona Highwaymen are $25 in advance, $30 at the door, and $35 for priority seating in the first three rows. Tickets are available online at ShowTix4U.com. For ticket prices and more information about these and other upcoming events, visit OldTownCenter.org, or call Elena Bullard at 928-634-0940.