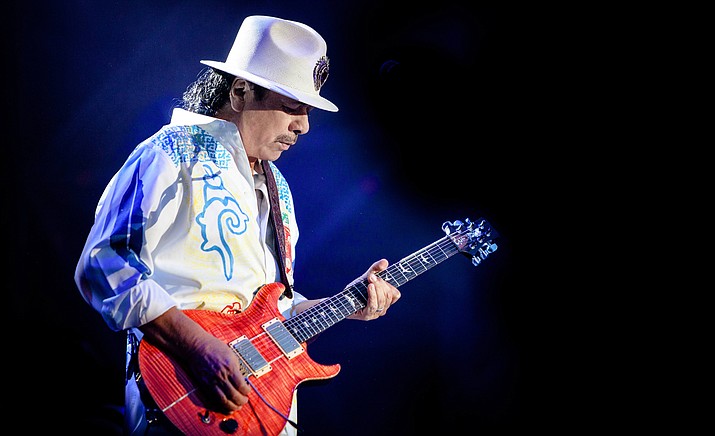 ---
---
The Sedona International Film Festival is proud to present the Northern Arizona encore of 'CARLOS: The Santana Journey' showing Nov. 18-22 at the Mary D. Fisher Theatre.
Celebrate the life of one of music's greatest icons in this special encore event.
At the age of 5, in his native Mexico, he learned to play the violin. At 8, he developed a lifelong love for the guitar. At 14, he honed those guitar virtuoso skills and his performance style working as a street musician, starting his own band long after, while still a teenager. And at 22 — just before his first album was released to acclaim — Carlos Santana became one of the major discoveries of Woodstock, anchoring the famous festival's second afternoon on Aug. 16, 1969.
A music industry legend for 50 years and a 10-time Grammy-winning global sensation, Santana continues to be one of the music world's premiere artists, blending jazz, blues, and the Mariachi sound with a rock n' roll spirituality and a sense of connection to music's primal connection to our deepest emotions.
The electric documentary 'CARLOS' utilizes new interviews with Santana and his family alongside extraordinary, never-before-seen archival footage — including home video recordings Santana himself made; concert footage; and behind- the-scenes moments — as two-time Emmy-winning director Rudy Valdez creates an intimate, rich documentary about a man whose sound casts a spell on fans who love — as one of Santana's famous titles says— "how his rhythm goes."
Showtimes are Saturday, Tuesday and Wednesday, Nov. 18, 21 and 22 at 7 p.m.; and Sunday, Monday and Tuesday, Nov. 19, 20 and 21 at 4 p.m.
Tickets are $12 general admission or $9 for Film Festival members. For tickets and more information, please call 928-282-1177. Both the theatre and film festival office are located at 2030 W. Hwy. 89A, in West Sedona. For more information, visit SedonaFilmFestival.org.