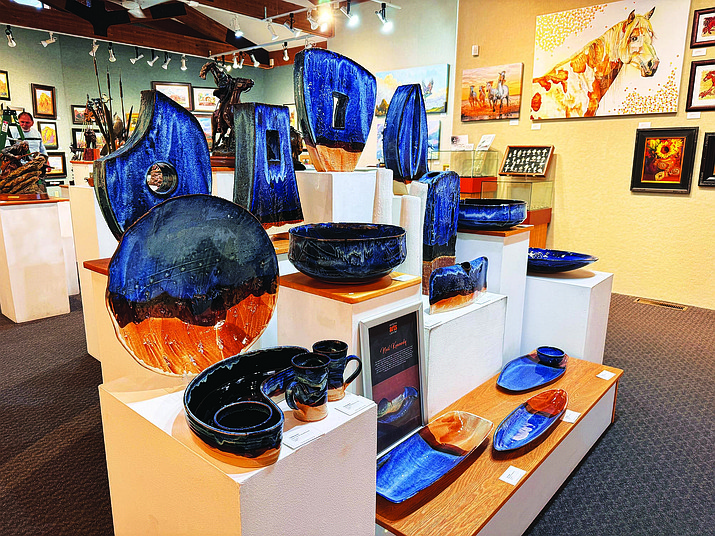 ---
---
The Gallery Shop at the Sedona Arts Center (SAC) is pleased to announce ceramicist Neil Kennedy as its featured artist for the months of Nov. and Dec. along with the works from the 19th Annual Sedona Plein Air Festival.
Kennedy's artworks meld a spiritual simplicity with a figurative rhythm and physical energy. His ceramic pieces range from functional thrown forms to coil and slab-built figurative sculptures. Current artworks meld thrown forms, slabs, altering, incising and sculpting. His oeuvre reflects the spiritual energy and the magical natural beauty of Sedona, and his pieces are represented in collections throughout the Southwest, Southern California and New England.
"Our Gallery Shop sells ceramics, jewelry, paintings, sculptures and mixed media by more than 90 local and regional artists, more than any other store in Sedona," says Julie Richard, CEO of Sedona Arts Center. "Our bi-monthly featured artist program highlights the incredible work of artists, like Neil, whose artwork is inspired by this region."
Kennedy grew up in New England where he was influenced by Cape Cod ceramicists. After studying figurative and Renaissance art in Rome, Italy, he returned to the United States and continued his studies with the nation's leading ceramicists. After working in the sports marketing world, he moved to Santa Barbara, CA, where he deepened his artistic commitment, began working in clay full time and started the search for his artistic voice. Later inspiration was found in the raw beauty of the mountains of Lake Arrowhead, CA. In 2018, Kennedy relocated to Sedona, Ariz. where he remains enveloped by the stunning landscapes. His studio overlooks Boynton Canyon and Thunder Mountain.
Kennedy also teaches at SAC. His 2023-2024 winter, spring and summer fine art courses include Hand Building and Pottery Wheel for Beginners. "Neil is one of our most popular instructors at SAC," says Richard. "His classes are enjoyed by beginning and experienced ceramicists of all ages. His upcoming class is already sold out!"
Other featured artworks in the Gallery Shop include paintings from the recent 19th Annual Sedona Plein Air Festival.
SAC is open Monday-Saturday from 10 a.m.-5 p.m., and Sunday from noon-5 p.m.
For more information, visit SedonaArtsCenter.org.