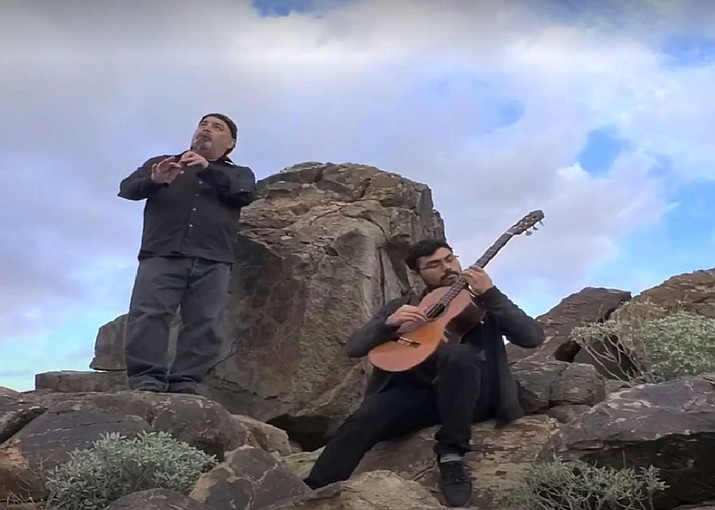 ---
---
The Sedona International Film Festival is proud to present the Sonoran Gypsies live in concert with special guest Arvel Bird on Sunday, Nov. 19 at 7 p.m. at the Mary D. Fisher Theatre.
Sonoran Gypsies is an Arizona-centric musical duo offering the unmistakable sound of sophisticated, beautiful, Latin Classical Style Guitar and Indigenous Native American Style Wood Flutes, blended as never before in a unique Southwest Latin and World Music style.
SONORAN GYPSIES:
Carlos Garibaldi (Guitar): At 26, Carlos is the youngest member of Sonoran Gypsies and has gained a reputation as an extremely versatile guitarist. His young experience has had him working with Chamber Ensemble groups, Guitar Orchestras, Choirs, Jazz Big Bands, Jazz Combos, Funk, Blues, Rock, Country, Pop, and popular covers. His true love is Latin style music and has become the heart and soul of Sonoran Gypsies as he is able to use his genre versatility to create unique Latin music styles. While he may be the youngest, he is beyond his years in skill as a guitar prodigy.
Scott Schaefer (Indigenous Wood Flutes & Didgeridoo): Scott, the oldest member of Sonoran Gypsies, is the founding member. With no formal music training, Scott taught himself to play Indigenous Native American Style Wood Flutes beginning in 2003. His style over the years has been very disassociated from the commonly known tribal sound that comes out of the Native American Style Flute. As the only recording artist of Sonoran Gypsies, he has a handful of CD's to his name. Leaning more towards a Latin Style, Scott had a vision of Sonoran Gypsies years before it was formed. Thanks to the collaborative efforts and commitments from Carlos, Scott now has the opportunity to fulfill his dream and present the music he has always dreamed of creating.
Guest Artist Arvel Bird (Violin and Fiddle): Arvel Bird is a classically trained violin virtuoso who has thrilled audiences the world over. Of Scottish and Paiute decent he has embraced his roots which have been the influence behind his Native and Celtic violin style. Arvel artfully weaves his dual ancestry into his performances which beautifully incorporates into the Sonoran Gypsies dynamic sound. We are thrilled to have Arvel as a guest artist.
Sonoran Gypsies and special guest Arvel Bird will take the stage at the Mary D. Fisher Theatre on Sunday, Nov. 19 at 7 p.m. Tickets are $20 in advance and $25 at the door. All tickets include a meet-and-greet with the band in the lobby after the show.
For tickets and more information, please call 928-282-1177. Both the theatre and film festival office are located at 2030 W. Hwy. 89A, in West Sedona. For more information, visit SedonaFilmFestival.org.