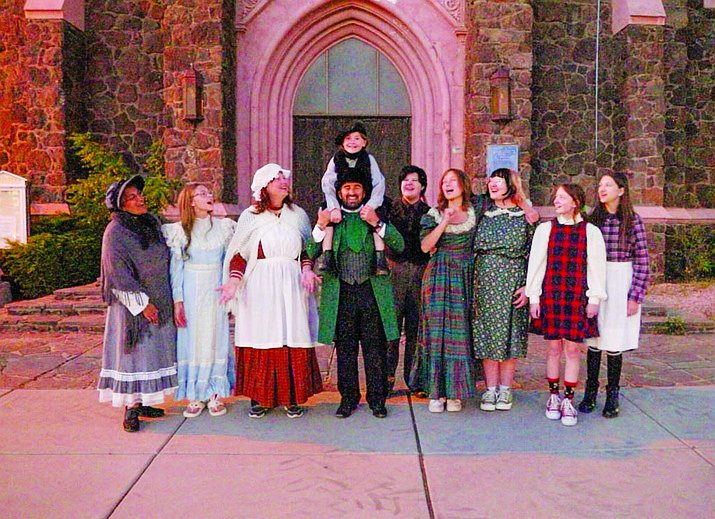 ---
---
Theatrikos Theatre Company and a cast of 33 bring the interactive musical comedy 'A Christmas Carol: A Twisted Musical Comedy' to the Flagstaff stage. This is not your Grandmother's 'A Christmas Carol'. Complete with audience participation and parodies of popular music, it's a traditional fairy tale for the kids with Flagstaff humor for Mom and Dad.
"Theatrikos' 'A Christmas Carol: A Twisted Musical Comedy' is inspired by the most popular form of theatre in the UK. And we're bringing it to Arizona. Our version of this holiday classic is interactive. It's a crazy comedy. It's a musical; with songs that are parodies of popular music. It's hilarious. You'll have a fun Christmas time and you'll leave clap happy in the end!" said Theatrikos executive director and show director Chris Verrill, who is doing A Christmas Carol for the seventh time.
'A Christmas Carol: A Twisted Musical Comedy' has been transported from old London to old Flagstaff. With references to local people and places such as Lowell Observatory, Flagstaff trains and falling pine cones. There's also a comedic dancing cows and singing tree. Actor Nick Dietz's favorite aspect of playing Scrooge is the chance to be ornery and portray a character completely unlike himself. "It's a way of acting a fantasy. I'm a giant child–I love working with children." What makes this production special for him is its "Flag spin". "It is more fun for the whole family. This play will be a crowd-pleaser!"
"The dances in our show are all unique and different in their own ways covering different dance styles from basic musical theatre, hip hop, jazz, and more. My personal favorite is Christmas Ghostbusters because it is a classic song that involves almost the entire cast and was the most fun to choreograph!" says choreographer Alison Johnston.
The fun the actors have on stage is infectious. Chloe Bliss, one of eight children playing Presents that assist the Ghost of Christmas Present, enjoys her role because, "It's fun to run around and fall into each other and chase Scrooge around the table." Another child actor, Emily Ellsworth-Bowers, achieved her dream of playing Tiny Tim: "I thought he was the best of everything!"
This show marks the return of Theatrikos' special Family Night on Thursday, Nov. 30. Tickets are lower price on Family Night.

Vaccinations are recommended, but not required.
Performances of 'A Christmas Carol: A Twisted Musical Comedy' are at Theatrikos, Nov. 24—Dec. 17, Fridays and Saturdays at 7:30 p.m. and Sundays at 2 p.m. There's a reception on opening night. Our new parking lot is available for patrons at the NE corner of Cherry and Leroux. Tickets can be purchased online at theatrikos.com, by calling 928 774 1662, or by visiting the theatre's box office, which is open from noon to 6 p.m. Mondays, Wednesdays, and Fridays and two hours prior to each performance.