Sedona Public Library in the Village: Pepper is the spice of the Library
By Anne Marie Mackler, Development Director
Originally Published: October 1, 2023 12:55 a.m.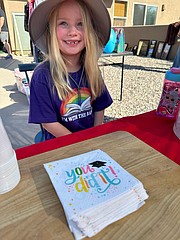 It is a rare and wonderful thing when professionals get to meet young people aspiring to do what we do for a living. Especially in philanthropy, and especially in a small town like the Village of Oak Creek.
But such a moment happened for us at Sedona Public Library in the Village this summer, when we learned that a local 6-year-old had a lemonade stand to support the Village Library. She donated the day's profits, $116, to the Library, and her glorious mark as a young philanthropist was made. We are duly charmed.
Pepper and her 5-year-old friend, Joaquin, hosted the lemonade stand, and when asked what inspired her, Pepper said. "I really like books." She added, "And I wanted to support the Village Library." Pepper proudly explained that she has recently advanced to reading chapter books. Her current favorite is the Ivy and Bean series (available through the Yavapai Library Network).
Pepper's family moved from Brooklyn to the Village of Oak Creek in 2020. The pandemic inspired them to spend time with Pepper's grandma Melissa, and they ended up relocating to the Village of Oak Creek. Erika Christiansen, Pepper's mom, said they loved the (former) Sedona Village Learning Center, and were thrilled when the Village Library opened in the fall of 2021.
Pepper said, "We donated books!"
Not only a young philanthropist, Pepper is also one of a family of bibliophiles. In fact, she started a book club with Joaquin and their friend Stella, 5.
"The parents get together," Erika explained. "And the kids just go off to talk about what they're reading."
Their first book was See You Soon, by Mariame Kaba (also available in the Yavapai Library Network).
When asked why they liked this book, Pepper said, "We like learning about all kinds of families, and what life is like for the kids." Erika reached out to Kaba to let her know about the youngster's book club. Kaba sent them a book club care package with cookies, candies, and books. "She sent a pretty big picture," Pepper added. It was a poster of one of the book illustrations, Erika explained.
In fact, it was Mariame Kaba who also inspired the lemonade stand. Kaba's "Libraries and Lemonade" project instructs families on things they can do to stay involved with and support their local Library and community. She emphasizes that we should all at least get a library card.
If you haven't signed up for yours, come by the Village Library Tuesday through Friday, 11 a.m. to 5 p.m., and on Saturdays, 10 a.m. to 2 p.m. Our library staff is always happy to help.
Take it from a lifelong fundraiser, meeting Pepper, this youthful, spirited philanthropist, melts my heart. I'm so proud of these kids and their willingness to help their community, especially at the Library. With young people like these who are reading and talking about books, and advocating for community libraries, the world feels a bit more hopeful. Thank you, Pepper, family, and friends.
Interested in supporting your Library? There are plenty of ways to do so. Making a gift is an important way, but like Kaba notes, there are many others. Become a Friend. Volunteer. Attend our many programs. Spend time in our beautiful spaces, plan meetings or events in our rooms, and tell your friends, neighbors, and families about how great you think we are. Need more ideas? Contact me at amackler@sedonalibrary.org.
See you at the Library!
---
SUBMIT FEEDBACK
Click Below to: