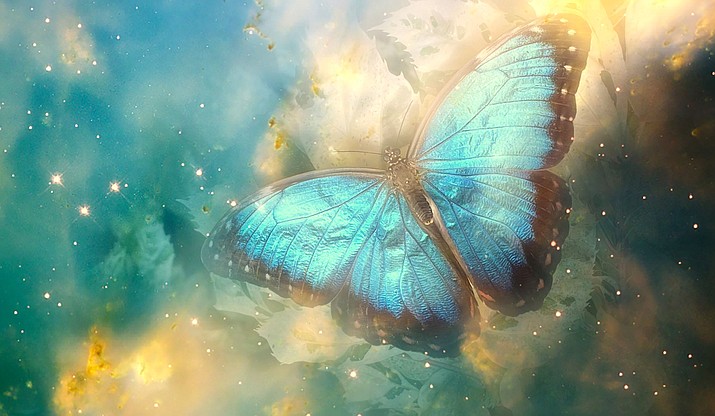 ---
---
Artists Janise and Jim Witt have been mainstays in the Sedona arts community since 1997 – except when they took a four year detour to Tucson which ended earlier this year.
But now that they're back, the Sedona Renegades Artist Group is delighted to welcome them as featured guest artists for Oct. Their compelling and highly original works will be on display at the Sedona Center for Harmony and Enrichment in Hozho Center.
The public is cordially invited to meet the artists at the venue's First Friday reception on Oct. 6 from 5-7:30 p.m. Jim and Janise, along with the Renegades artists, will be on hand to chat about their works and their artistic adventures.
Also, the charity the Renegades are supporting in Oct. is Steps to Recovery Homes, a nonprofit dedicated to helping people recover from addictions while addressing accompanying barriers to living a productive life. They provide safe, structured environments for people who might otherwise fall through the cracks. Danien Browning, Executive Director, will be on hand to tell us more about how they serve the community, and charitable donations will be gratefully accepted.
Janise Witt, quite impressively, divides her endeavors between fine art photography - including images from nature as well as supremely imaginative composite creations - and high end professional image-making for weddings, families, publications, pets, and people. Her work embraces the rich tapestry of the Earth's family and bounty, woven with the magic she feels about people and our beautiful environment. And she loves to share that magic by leading photographic sojourns around the world.
Her elegant images have appeared in countless books, magazines, and exhibits, and they grace the walls of clients and collectors worldwide. "I am a photographic artist who loves people and the romance and natural beauty which surround us," she notes. "In that one moment in which the image is created, all the senses, heart, and spirit merge into the alchemy which flows through the lens of the camera."
Jim Witt, meanwhile, is a man of hugely diverse interests. As a psychologist, he employs a unique system called Infinite Meditation, which had its genesis during his postdoctoral work at UCLA. He guides individuals towards success by teaching the mind a more efficient way of thinking, being, and acting.
And as a multimedia artist, he demonstrates how effective this is. Amazingly, he commingles songwriting, novels, photography, painting, sculpture, computer vision, found art, metal work, cartooning, and performing (as an impressionist and musician). His works combine a remarkable range of materials, images, and techniques to convey the limitless, wholistic tapestry of the world in which we live.
Sedona Center for Harmony & Enrichment is a welcoming rental space for practitioners, artists, and event creators. In addition to the Renegades art gallery, it hosts sessions, classes, and lectures in a wide range of healing disciplines. For information on renting this space, contact Tatia Fick at 928-554-1951 or visit www.SedonaCHE.com .
The Sedona Renegades Artist Group is well known for organizing exhibits in Sedona venues and has been in residence at SCHE since last year. Led by Jim Peterson, Carol Gandolfo, and Karen O'Donnell, the group features outstanding guest artists each month plus many fine works by its distinguished member artists.
This exhibit can be viewed in the heart of gallery row on the upper level of Hozho Center, 431 State Route 179, Suite A6, Sedona. For more information, contact Jim Peterson at 602-828-7407 or Tatia Fick at 928-554-1951.