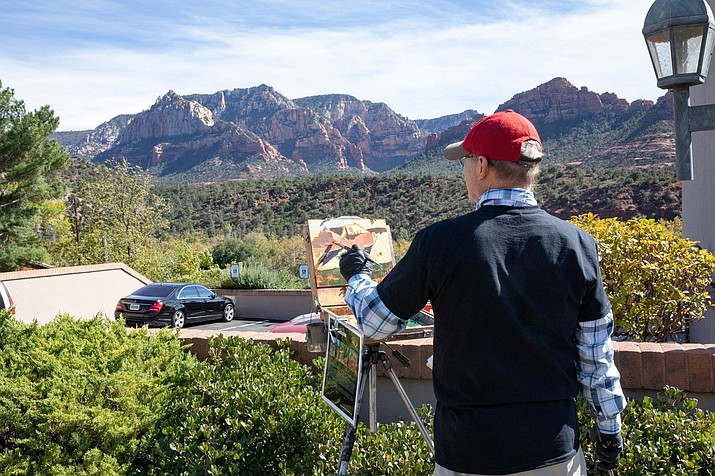 ---
---
27 renowned plein air artists from across the country will capture Sedona's extraordinary landscapes during Sedona Arts Center's 19th Annual Sedona Plein Air Festival, Oct. 20-28. The week-long event features artist demonstrations, paint outs, lectures, juried art competitions and more. All events are free and open to the public.
"Our Plein Air Festival is a premier destination event and Sedona Arts Center's signature fall event," said Julie Richard, CEO of Sedona Arts Center. "Everyone is invited—residents, visitors and art lovers of all ages—to observe professional artists in action painting this wondrous place outdoors or "en plein air."
Participating festival artists will paint in varied mediums and styles throughout the city and surrounding landscape, including L'Auberge de Sedona, Sedona Heritage Museum, the Sedona Airport, Uptown Sedona and Sedona Arts Center. Paintings created over the course of the week will be framed and displayed for sale in the Special Exhibitions Gallery and Theatre Studio of the Art Barn at Sedona Arts Center.
The French expression, "plein air" translates to "in the open air" and means painting entirely from direct observation in natural light or outdoors. It is a challenging practice for artists to paint from life and capture the rapidly changing environments—light, temperature, weather and subject—of their location. Knowing the changing conditions that artists endure to produce a completed artwork, plein air paintings are even more impressive. "It is an unforgettable experience to watch Sedona landscapes and everyday scenes materialize on canvas," says Richard.
The week begins with an Artists Meet & Greet Reception on Friday, Oct. 20 followed by paint-out events, artist demonstrations and engaging lectures. The festival concludes with a Community Paint Out on Saturday, Oct. 28 where the public is encouraged to get creative and join the fun.
For more information on the 19th Annual Sedona Plein Air Festival, including a list of participating artists and event details, or to register for select events, visit SedonaArtsCenter.org.
Our mission is to connect, enrich, educate and lead through the inspiring power of the arts and creative discovery.
Visit SedonaPleinAirFestival.org for more information.