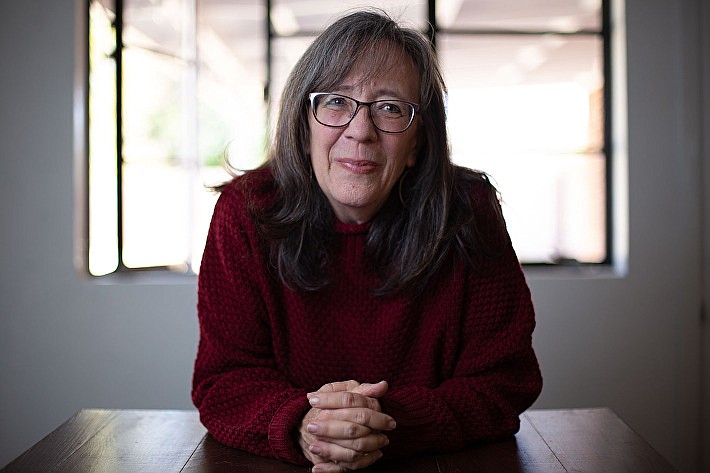 ---
---
Carre d'artistes Gallery is happy to announce that plein aire Artist Cindy Carrillo will be visiting and painting for us live on Oct.20. Come meet her and see her magic at work. We are open 10 a.m. – 6 p.m., Cindy will be here most of the day. Feel free to call with any questions.
How I Approach My Art by Cindy Carrillo:
Painting from life, standing outside right smack in the middle of the landscape is plein air. The information comes at you all at once and it's overwhelming. Colors, sounds, smells, cold air, hot wind, and bugs. What I try to do is cut out the noise, bring what is around me down to the basics of what is the essence of the scene. I describe my paintings as if you see the scene now, close your eyes and what stood out the most? What is in your memory- to me that memory is what is the best part and what I attempt to get down in paint. I hope the viewer will take my memory and add to it as I am not replicating the scene at all, just putting down its best parts!
HONORS - 2022-23
'Best in Show' Sedona Art Center- 'What Sedona means to Me'. 16x 20 Oil created in Plein Air in Sedona Sept.2022
'Honorable Mention'. Prescott Plein Air Festival, plein air 12x12 oil. 2022
3rd Place - Arizona Plein Air Painters Salon Show. Douglas Fry Judge
2 Plein Air Oils accepted as Finalists for Gallery Show –19th Annual Best of Plein Air Exhibit and Sale—
Laguna Plein Air Painters Association March 2023
Solo Show at CarreDArtistes Gallery, Sedona, Az. March 17, 2023
Honorable Mention at the Arizona Plein Air Painters Show at the Mood Room in Phx. 'Farmers Market' watercolor/gouache
Contemporary Impressionist
Cindy is an accomplished oil painter, watercolorist, gouache and mixed media maker, whose work has been featured in galleries across the Southwest. Her work has appeared in Southwest Art Magazine and has received awards at juried events from the American Impressionist Society, Plein Air Painters of Colorado, Arizona Plein Air Painters, Laguna Plein Air Painters, Estes Park Plein Air, Southern California Artists, and more. She has served on the panel of judges for juried shows including the 50th Anniversary of the Catalina Festival of the Arts. Cindy has also held multiple solo exhibitions at the Mayo Clinic, a place that holds very special meaning to her.Cindy received a BFA degree from Arizona State University and many workshops with respected artists, and years with her mentor, Darlene Swaim. Her greatest art influences include Sheila Hicks, Louise Nevelson, Paul Cezanne, Richard Diebenkorn, and many more.
She is a Signature Member of the Plein Air Painters of Colorado and a Founding Member of the Arizona Plein Air Painters. Cindy is inspired by the natural world and loves to share her passion with others through plein air workshops. Her classes seek to make painting less intimidating for the novice and communicate the importance of painting from life. The concepts she teaches are to learn to see, not imitate what others do but see for themselves and then learn the tools/skills of painting so the student can find their own voice. Her choice of media depends totally upon what the scene demands.