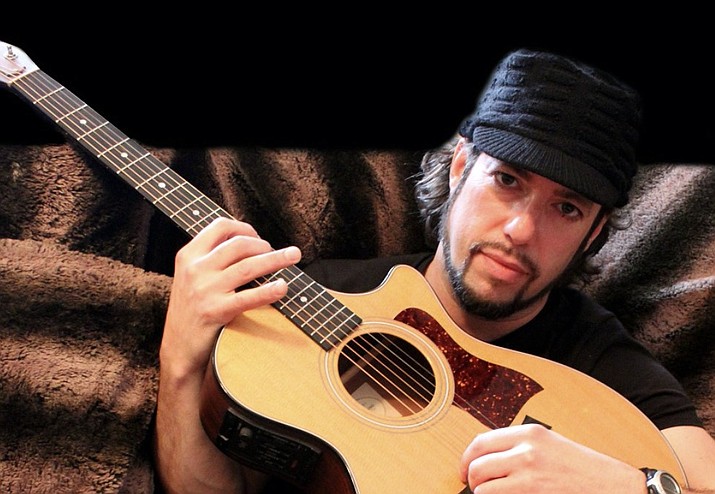 ---
---
Once again Bella Vita Ristorante delivers a weekend of great live music with Sammy Davis preforming Friday, Oct. 20, from 6:30 to 9:30 p.m. and Alex Ogburn performing Saturday, Oct. 21, from 6:30 to 9:30 p.m.
Sammy, a Sedona local, is a performer whose artistry and showmanship have captured the hearts of locals and visitors alike.
Singing, dancing, prancing, twirling he puts on a show like no other.
He is an exceptionally talented musician, renowned for putting on one of the most vibrant and enchanting shows, anywhere.
Sammy has been serenading audiences with his unique blend of music and charisma for decades.
For years, Sammy Davis has been serenading audiences with his unique blend of music and charisma. His performances are a feast for the senses, offering a colorful journey that transcends the boundaries of genre and style.
Whether it's an intimate gathering at a local cafe or a grand stage at a renowned festival, Sammy's presence fills the air with an undeniable energy, leaving everyone in awe, up and dancing to the great classics that define the Baby Boomer era.
His performances are a blend of various musical influences, skillfully woven together to create a tapestry of sound that is as diverse as the Sedona landscape itself.
From soulful blues to groovy jazz, and from folk-inspired ballads to upbeat rock 'n' roll, his repertoire knows no boundaries. It is this eclectic mix that sets his shows apart, offering a little something for everyone in the audience.
Sammy Davis's performances have become synonymous with the vibrant spirit of Sedona. Tourists from all over the world love his shows, enjoying a musical experience like no other.
Sammy's fan base continues to grow, with many returning year after year to witness the magic he brings to the stage.
On Saturday, it's local minstrel Alex Ogburn performing.
Ogburn is a seasoned professional singer/songwriter with a plethora of songs played and sung with poise and confidence.
Ogburn provides a truly entertaining experience for listeners through his thoughtful choices of songs which include iconic to more obscure covers mixed with heartfelt Blues and moving original compositions.
This avant-garde acoustic performer's diverse vocal stylings flow nicely throughout the evening while complimenting his unique, self-taught technique of guitar playing.
He is gifted with a golden voice and extraordinary musical talents on guitar. What makes watching him play even more exciting is that he is a natural lefty and plays the guitar upside down. Like Jimi Hendrix.
He is fun to watch and fun to listen to as he takes his audience through an odyssey of songs that span the musical generations.
It's most assuredly not just your average acoustic show, so come sit back and relax as he takes you on a musical journey that's sure to leave you feeling satisfied and enthralled.
Bella Vita Ristorante is located two miles west of the Courtyard by Marriott on 89A near mile marker 368 at 6701 West State Route 89A.
For reservations and specific directions to the restaurant visit bellavitasedona.com or call 928-282-4540.