Camp Verde High School stages classic farce 'Arsenic and Old Lace'

Originally Published: October 19, 2023 3:11 p.m.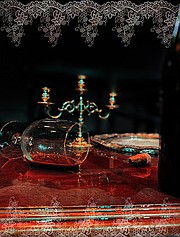 CAMP VERDE – Scary and funny is the best kind of Halloween, and the Camp Verde High School Theater Department sets the mood for the season with its production of the classic comedy "Arsenic and Old Lace."
The play by Joseph Kesselring is set for Friday and Saturday, Oct. 20-21, and Oct. 27-28. All shows start at 7 p.m. in the auditorium of the Philip England Center for the Performing Arts.
In the story, Mortimer Brewster is a drama critic about to get married but is worried a tendency toward insanity in his family might complicate the marriage. One brother thinks he's Theodore Roosevelt, and his older brother Jonathan is a murderous maniac dodging the cops.
He thinks his two sweet, old aunts Abby (Cate Worden) and Martha (Ashlynn Denlinger) are the only stable members of his family, but that turns out to be the biggest delusion of all.
As Aunt Abby says, "Anything can be poison if you try hard enough."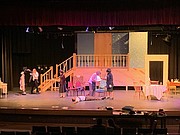 The original production played for years on Broadway and in London's West End and was still playing when the movie version was filmed in 1944 starring Cary Grant.
For CVHS, Maximiliano Sotelo Arevalo plays the lead of Mortimer Brewster.
"I love bringing this character to life because I can relate to Mortimer's sheer madness and wit throughout the story, which make this show fun and enjoyable for the audience," he said. "One of my favorite scenes from the show is when I get tied to a chair by Jonathan, because not only is it traumatizing, it also brings tension to the play."
Cast and crew and theater-boosting parents have been very busy polishing their scenes and creating the set and costumes in time for opening night.
"It's a lot of work, but it's worth it in the end," said stage manager Lea Olson.
"Through lots of hard work and support, we put our whole soul into producing a show," Worden said. "I'm happy that I've found a home in theater, and I'm glad others get to enjoy it too."
The PECFPA is at 210 Camp Lincoln Road. Tickets are $5 for students and $10 for adults.
"'Arsenic and Old Lace' is a fantastic show, and so funny – we laugh and laugh, it is so ridiculous," said parent volunteer and theater mom Andrea Freeman. "It has everything you need: two charming old ladies, dead bodies, some poison, a mass murderer ... What more could you want?"
---
SUBMIT FEEDBACK
Click Below to: