12-home subdivision prepped for Camp Verde

Originally Published: October 24, 2023 9:03 p.m.
CAMP VERDE — A proposal to put 12 homes on 15 acres is coming before the Camp Verde Planning & Zoning Commission Thursday seeking approval of a preliminary plat.
The property, owned by Opportunity Zone Development, is off Arena Del Loma Road, southeast from the overpass of Interstate 17. The plan is to have homes on an acre or more in what is being called Feldmeier Estates.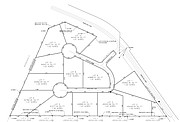 Realtor Rob Witt, owner of Verde Income Partners and managing partner in Opportunity Zone Development, submitted the application in August.
The property is zoned low-density residential, which the owners intend to use in creating the subdivision.
"It is the goal of the property owner to minimize the potential impacts by creating a subdivision that is harmonious with the rural character and the planning polices of the area," Sefton Engineering land planner David Nicolella wrote in the letter of intent.
The plan shows the 12 lots laid out on one street bookended by two cul-de-sacs with one fire hydrant at the center of the development.
The commission had a preliminary discussion of the matter at its Oct. 12 meeting as something of an educational item. Staff walked them through the stages of this kind of proposal as it works its way toward the town council.
Town planner Cory Mulcaire noted none of the current planning staff had brought before the commission a proposal dealing with Section 505 of the Planning & Zoning Ordinance, which deals specifically with preliminary subdivision plats.
The P&Z meeting is Oct. 26 at 6 p.m. at Town Hall.
---
SUBMIT FEEDBACK
Click Below to: