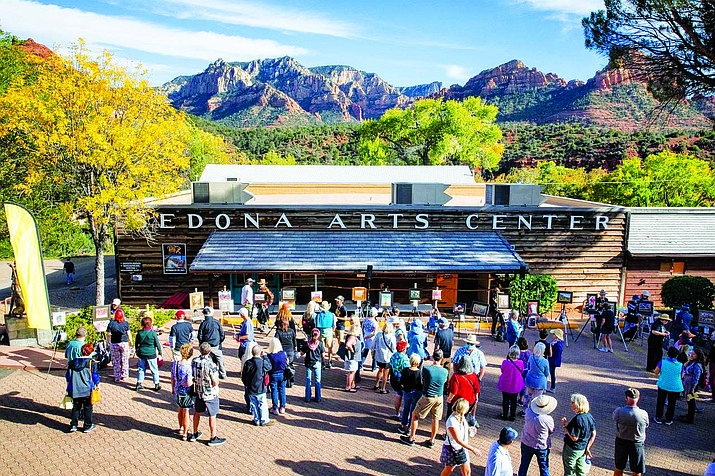 ---
---
Sedona Arts Center (SAC) concludes the 19th Annual Sedona Plein Air Festival with three special events: an Awards Night Celebration & Reception on Friday, Oct. 27; Artists' Games on Saturday, Oct. 28; and a Community Paint Out also programmed for Oct. 28. All events are free and will be held at Sedona Arts Center, located at 15 Art Barn Road. Free event parking is located behind SAC's Art Barn.
Best of Show and final awards will be announced at the Awards Night Celebration & Reception, from 5-7 p.m., at SAC's Special Exhibition Gallery & Theatre. Tim Newton, publisher of Western Art & Architecture magazine and Chairman Emeritus of the famed Salmagundi Club, will present the awards. SAC Patron's Circle members can arrive at 4 p.m. for a 30-minute preview and chance to purchase artwork before the reception opens to the public. VIP parking is included. To join the Patron's Circle, visit sedonaartscenter.org.

While awards night celebrates the artwork created by participating artists, the festival culminates Saturday, Oct. 28, with two beloved community events—Artists' Games and a Community Paint Out from 10 a.m.-noon. A collaborative and freeform event, the Second Annual Artists' Games puts artists into teams to produce one painting. Each artist is given 15 minutes to paint, but before one can begin, there is a twist. Attendees will enjoy watching artists rise to the challenge to produce a one-of-a-kind masterpiece. The Community Paint Out, programmed in celebration of SAC's 65th anniversary, invites first-time painters and master artists to channel their creativity and capture the surrounding scenery through the time-honored tradition of painting outdoors or en plein air. Registration begins at 9:30 a.m. Participants can choose to sell their paintings at the event and enter the Community Paint Out's art competition that includes an awards ceremony. The Best Community Painter will receive a $150 cash prize, while Second and Third Place winners will receive gift certificates to the Sedona Arts Center's Gallery Shop. Paintings from this event, and throughout the week, will be available for sale until 2 p.m.
For more information on the 19th Annual Sedona Plein Air Festival, visit sedonapleinairfestival.org or call 928-282-3809.