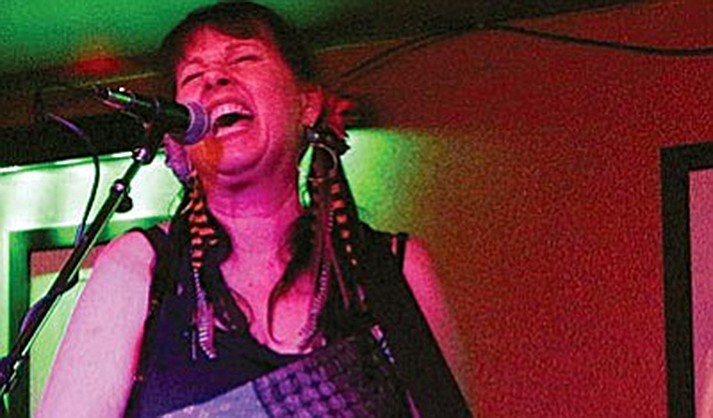 ---
---
10-12 Lounge
910 Main St., Clarkdale
928-639-0800
1012Lounge.com
Thurs 10/26 5pm Christy Fisher
Sat 10/28 2pm Aces 'N' Eights
Sun 10/29 2pm Heavy Souls
Tues 10/31 HAPPY HALLOWEEN
Calavera Mexican restaurant
747 S Main St, Cottonwood
(928) 634-9618
Sun 10/29, 5-8pm - Open Mike. Signups at 4:30. All Skill Levels. Audience Welcome.
Fiddler on the Rock
Concert Series
The "HUB" at Posse Grounds
525 Posse Ground Road, Sedona
fiddlerontherock.com
Mondays thru Dec. 18, 6:30 - 8 p.m.
Live Weekly Concert Series. Featuring symphony solo violinist and multi-genre looper artist, Tyler Carson, Fiddler on the Rock. Suggested donation $11-$33
Mooney's Irish Pub
671 AZ-179, Sedona
(928) 282-2331
mooneysirishpubsedona.com
Sat. 10/28, 6-9pm - Open Mic Music Jam with Martini And The Pope
Vino Di Sedona
Wine & Beer Store/Bar/Kitchen
2575 W SR 89A
West Sedona
928 554-4682
VinoDiSedona.com
Wed 10/25 - Once Bitten, Danceable Blues & Rock - 6pm-9pm
Thurs 10/26 - Open Mic Night Hosted by Jim Pope - 6pm-10pm
Fri 10/27 - Well Dressed Wolves, Arizona Power Trio - 7pm-10pm
Sat 10/28 - Wine Tasting 3pm-5:30pm; Dave Clark, Acoustic Rock - 7pm-10pm
Sun 10/29 - Rob MacMullen, Classic Acoustic - 6pm-9pm
Tues 10/31 - John Gowans, Acoustic Rock - 6pm-9pm
MUSICIANS
Alive n Kikin
Fri 10/27, 5-7 pm, Cottonwood Private Party
Fri 11/3, 5-8 pm, Ay, Chihuahua restaurant, 1028 N Main St., Old Town Cottonwood
Christian Michael Berry
Sat 10/28, 12:30 to 4:30pm - Christian Michael Berry with Chad Watson and Pam Loe at Alcantara Vineyards, 3445 S. Grapevine Way · Cottonwood.
Novi Bruno
Fri 10/27, 3-5pm - Oak Creek Vineyards & Winery, 1555 Page Springs Rd. Cornville. The recording artists whose original music is on the major digital streaming services entertain with a blend of originals and familiar pop and rock favorites, styled with Latin and Caribbean moods.
Christy Fisher

Wed 10/25 - The Hilton Resort- Sedona 7-9
Thurs 10/26 - The 10-12 Lounge- Clarkdale 5-8
Fri 10/27: Cove Mesa Vineyards- Cornville 4-7
Sat 10/28 - DA Vines Vineyard- Cottonwood 6-8
Kaleidoscope Redrocks
Gracie & Tivona Moskoff

Sun 10/29, 3-5pm - Lyzzard's Lounge, 120 N. Cortez St., Prescott Dress Up HALLOWEEN SHOW FUNDRAISER for YAVAPAI BIG BROTHERS BIG SISTERS. 100% of the proceeds from KR's tips and Raffle/Silent Auction will be donated to YBBBS.
Menagerie
Fri 10/27 – Old Corral in Cornville, 11375 E. Cornville Rd, Cornville, AZ 86325, from 8pm to midnight
Sun 10/29 - The Belfry in Old Town Cottonwood, 791 N. Main St, Cottonwood, AZ 86326, from 6pm to 9pm
Toucan Eddy
Sat 10/28, 7-11pm– Toucan Eddy plays at PJ's Village Pub, 40 W. Cortez Dr, Village of Oak Creek, Sedona.