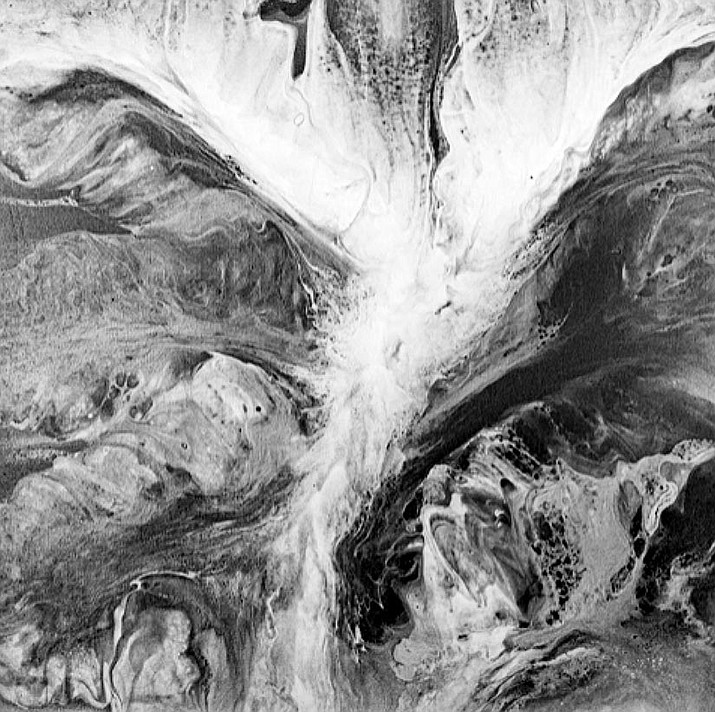 ---
---
Sedona-based artist Christine DeSpain Schroeder will be exhibiting her new series of ethereal angel paintings Sunday, Oct. 29, 4 to 7 p.m. at the James Ratliff Gallery in Hillside Sedona, joined by renowned violinist Marlene Rausch who will perform during the presentation a symphony of angels.
Touched and guided by angels since she was a child and through her artistic career as a painter and artist, DeSpain's new works culminate a lifetime of artistic accomplishments and endeavors as her new ethereal paintings take the viewer on a metaphysical journey through time and space, guided by the angels they encapsulate.
For as long as she has painted, celestial muses have whispered their inspiration to DeSpain revealing themselves and now taking center stage in her mesmerizing and inspiring new series of paintings, with angels as her guiding light.
"When I was a little girl, I felt the presence of angels, and I've felt them all my life," she said. "The first time I truly knew there were angels was when I was living in Colorado and engaged at the time. My fiancé's son had bought a new Jeep, but I kept having visions of him being in a fatal accident in that Jeep. I couldn't bear to tell him to sell it, so instead of dwelling on the negative energy and anticipating something bad, I mentally surrounded the Jeep with white light and angels. When the accident did happen, and my father-in-law went out to see the crash site, he said, 'I can't believe they survived that. There must have been angels around that Jeep.' That's when I knew that angels were real and that we can ask for their help and invite them to assist our loved ones."
Through her career as a painter DeSpain had been a traditional artist painting portraits and landscapes and even sculpting until she developed a deteriorating eye condition which robbed her of her ability to paint details.
As darkness descended, she was plucked from despair by gallery owner James Ratliff who suggested she try her hand at abstract art. She did so and she took off running with a new modality of expression, guided, inspired and protected by her angels.
"My angels have been helping me with my painting," she said. "I can communicate with them in my mind, and they answer back. They assist me with my paintings. When I create a painting, I often ask for their help, and they come to guide me through the process. Lately, I've been painting angels. I did one of Michael, my husband, which looked like an angel, and now I'm creating more angelic pieces. I often see rays of light coming down from the sun. I photograph them. and sometimes, it feels like the angels influence the paintbrush, creating beautiful and, sometimes, not-so-great results. I don't see them, but I can feel them and hear them. But I enjoy playing with them all the time, and their presence has become a part of my personality."
Her upcoming exhibition at the Ratliff Gallery promises to be a divine musical experience as well, as renowned violinist Marlene Rausch, accompanied by pianist Jose Salazar, will perform a selection of classical masterpieces that embody the angelic theme of DeSpain's exhibition.
"We're looking forward to the exhibition," said Rausch, former concertmaster for Arizona Opera & Ballet Arizona; former concertmaster; associate concertmaster for Phoenix Symphony; former Adjunct Professor of Chamber Music at Grand Canyon College; and current board & artistic committee member of Phoenix Chamber Music Society. "I think it's a very special night. We're going to play Angel music inspired by those paintings, compositions like Ave Maria, The Lord's Prayer and Salut de' Amour."
Gallery owner James Ratliff is excited over the coming exhibition and looks forward to a beautiful evening filled with love and divine inspiration.
"Christine and I have always discussed her connection with angels, as she often receives inspiration through her angels about what she should paint," he said. "I've been mentoring her in transitioning to portrait-type paintings because, due to her eye problem, she couldn't continue doing highly detailed work. This is how the idea for the angel paintings emerged."
Once the idea took hold, DeSpain eagerly began to produce new works.
"Suddenly, a series of angelic paintings appeared, and I thought to myself, 'Christine, this is incredible. We need to showcase these.' I believed the world needed more angelic art, and that's how it all began."
Ratliff remains grateful that Rausch agreed to perform angel music for the event.
"Marlene, being a wonderful and incredibly talented violinist, entered the picture," he said. "I wasn't sure if she could participate or if she would, but she agreed, and that's how this whole project developed.
Ratliff looks forward to introducing DeSpain's angel paintings to the public.
"Yes, Christine and I are very excited about it, and I believe it's going to be a significant and unique event," he said. "It's almost like, a world exclusive."
The exhibition will be catered. Refreshments will be served. Arrive in time to find parking.
James Ratliff Gallery is located at 671 S.R. 179, Suite AST 1, Sedona Az 86336 • 928-282-1404 • JamesRatliffGallery.com • FineArt@JamesRatliffGallery.com