The Fit Life: A Table for One
Originally Published: September 1, 2023 3:21 p.m.
We all have our own ways of empowering ourselves. Some of the ways in which I have empowered myself through my lifetime include, for example, being a mom and an Ironman, knowing that my IQ score is 168 and that I can run very far, winning a battle against breast cancer, learning to say "No," escaping Communism, and getting a PhD (not necessarily in that chronological order).
Declared singlehood has been extremely empowering to me, as well. I always get a kick when I walk into a restaurant and confidently ask for a table for one. Or when I set out for an adventure to the furthest corners of the world, alone. We all have our respective "de-stress-me" methods. When life starts being too repetitive and predictable, the best solution for me is to spin the globe and target the next destination to visit.
Me accompanying me also means that I must be caring and super nice to myself. Just like taking myself out on a date. And I must be the best travel companion to myself.
My tiny plush giraffe is the only one who gets to travel with me. In May, for example, I travelled with her to Portugal and Morocco. I felt fully recovered from the late 2022 mastectomy and ripe for a new adventure. It was such an unforgettable experience for both of us!
Travelling alone makes me feel free, and "free" is my favorite F-word. I don't need to explain myself to anyone, to compromise or set for something what I really don't want to do. I can just go with the flow of what I feel like doing. And if I fancy, I can change my plans on the spur of the moment!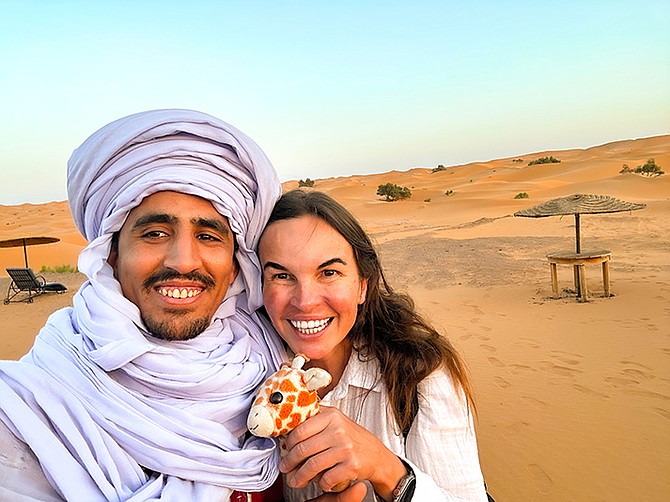 Flexing my own boundaries is something what feels good, no matter what the boundaries are. On occasion, I would be stretching my fitness limits: I would train more, or differently than my "usual". Sometimes, I would expand my current geographical boundaries and travel to far-flung places which I am not familiar with. Ultimately, getting out of the cozy and familiar status is what makes me happy and confident.
Once at the destination, I would always be asked, "Do you travel alone?!" And when I confirm that yes, it always brings out the "next level" of hospitality. I feel embraced, accepted, and very safe. People almost "care more" to make sure that my needs and wants are met, because they realize that it takes guts to be a single woman and get yourself into some remote places, domestically or internationally. They want to make sure that I feel more welcome than ever. Folks appreciate my curiosity about their area, and my adventurous mindset. As a result, I make new friends, which would not have been possible to the same extent if I was travelling with a partner. And I have never been in any compromised situation because of my "solo" explorer status across all seven continents that I have visited.
Living a boldly adventurous life is so worth it!
Magdalena is the owner of the Be Fit Fit Personal Training Studio (befitfit.biz) and the Top 3% Chairman's Board Realtor® at the Russ Lyon Sotheby's International in Sedona. Visit her "Be Fit Fit" blog at www.verdenews.com.
---
SUBMIT FEEDBACK
Click Below to: