President's Column: Sedona Village Partnership supports BPC powerline effort
By John Wichert, Big Park Council President
Originally Published: September 1, 2023 2 p.m.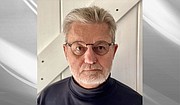 We have in our Village a treasure. Led by President David Gill, the Sedona Village Partnership (SVP) recently again proved its value to our community. The SVP members are the people who are spearheading and working with Big Park Council(BPC) to bring us Art in the Roundabouts, who collaborated with BPC to develop the "Disaster Resource Repository" that is now housed on our new BPC website, and who have made possible many other Village projects and events.
At the Aug. 10 meeting of the BPC Mr. Gill announced that the Sedona Village Partnership the previous day voted unanimously to approve a $5000 grant to the BPC for research of a potential legal challenge to the APS above-ground powerline proposal.  The conditions for the $5000 grant are twofold: 1. Up to $5000 will be granted to match contributions to the BPC for this project and 2. Any remaining funds after the research (and potential lawsuit) are completed will be returned to SVP. 
In addition, a one-time $1,000 grant will be made with the suggestion that it be used to raise community awareness of this proposed project.  In response to this grant, BPC is planning to host a public event in late September to further educate our Village residents about the potential deleterious impacts of an above-ground transmission line loop between McGuireville and the VOC passing across Coconino National Forest (CNF) land. BPC supports burial of this line along Beaverhead Flat Road and SR179.
Burial of the line near the VOC would mitigate wildfire risk (of ever increasing importance), keep the Kel Fox Trail undisturbed, and preserve the viewshed along the Red Rock Scenic Byway. Please see "Preserve Village Views and Mitigate Wildfire Risk" in the Aug. 1 edition of The Villager, visit our website, bigparkcouncil.org/local issues/APS transmission line, and articles on major social media for further details of this proposed project.
BPC is deeply appreciative of this "financial vote of confidence" from the Sedona Village Partnership and the many individual donors who have already brought us halfway to our campaign goal of $10,000.

Please remember that you may contribute to this fund by check to Big Park Council, PO Box 21021, Sedona, AZ 86341 or via PayPal, Zelle or Venmo by entering our username buryvocpowerline@gmail.com or @buryvocpowerline.
Your gift may be tax deductible if, as expected, BPC is approved as a 501(c)3 organization in the coming months.
While everything above represents our "due diligence" for the Big Park/VOC community, BPC certainly hopes that litigation proves unnecessary. I wish to acknowledge the assistance of longtime VOC attorney Doug Fitzpatrick for his participation as we communicate with the Earthrise Law Center and USFS.
Fortunately, we can now explore other options.
We have a new volunteer, Mark Matousek, a Stanford-educated engineer who, for most of his career, has worked in the power generation industry and is expert in environmentally friendly electrical generation. Mark also has extensive experience working with the U.S. Forest Service.
With Mark's expertise we hope to engage directly with USFS, and possibly APS, to find an alternative means of providing electrical stability for the VOC, and at perhaps a lower cost to APS, meet the Scenic Integrity Objectives of the USFS, and meet our Big Park/VOC community goals. For example, in his research Mark has found that there have been no community-wide power outages in the VOC in the past three years. There is no urgency for a backup transmission line at this time.
The coming together of individuals and nonprofit organizations to this point is telling and a promising sign of future success.
---
SUBMIT FEEDBACK
Click Below to: