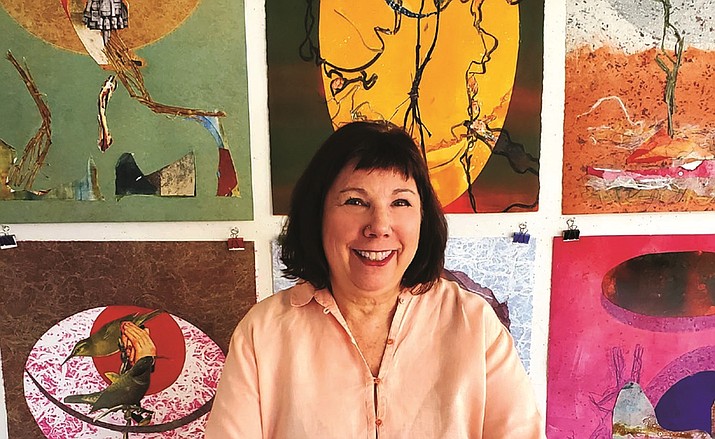 ---
---
The city invites the public to save the date for its next artist reception on Thursday, September 7, 2023, from 4 to 6 p.m. in the Council Chambers and Vultee Conference Room at City Hall, where on display will be 25 works created by Amy Ernst. Special music guest will be Michael Kollwitz.
Ernst received a Bachelor of Arts in Theater Arts from Emerson College in Boston and her Master of Arts in Arts Administration from Indiana University. She is a fourth-generation artist in which historical art – specifically the Medieval, Renaissance and Surrealist periods – and theater set design background have inspired her work. As a result she has created her own signature: building collage books, box constructions and various printing techniques using monotype, solar-plate and stone lithography.
Her grandfather, Max Ernst, pioneer of Surrealism and Dadaism, came to Sedona in 1946 with his wife and surrealistic painter, Dorothea Tanning. They built a home, now named the Capricorn Hill Center for Surrealism, that still exists and is available to tour. Amy keeps the same creative and spiritual energies that inspired Max and Tanning, alive through her current work by evoking, as writer Stephen Robeson Miller said, "a contemplative experience that provides the viewer with spiritual sustenance and a sense of revelation."
"I did not choose to be an artist, it chose me. My father told me not to become an artist or marry one, because life is too difficult. Life is never easy when one comes from a well known family, especially of artists. People are critical or want something from you. I always try to express to others: don't allow that negativity pull you back. Learn from it, embrace it and grow from it. It's never too late to create."
"It was wonderful to meet Amy last April for her first visit to Sedona in 50 years. As we were sharing our love for the arts and New York stories, I realized this was a unique opportunity to invite her to exhibit her work in Sedona. I hope the public will take time to view her exhibit in the place where her prolific grandfather was inspired and left his legacy," said Arts and Culture Coordinator Nancy Lattanzi.
Ernst has numerous exhibitions in the U.S., as well as in Morocco, Spain, Sweden and France. She is currently represented by DIE Galerie in Frankfurt, Germany.
More information
This exhibit runs through January 3, 2024. Except for the reception, viewings are available by appointment only. To schedule an appointment, or for more information on the City Hall Art Rotation Program, please contact Lattanzi at 928-203-5078 or NLattanzi@SedonaAZ.gov.