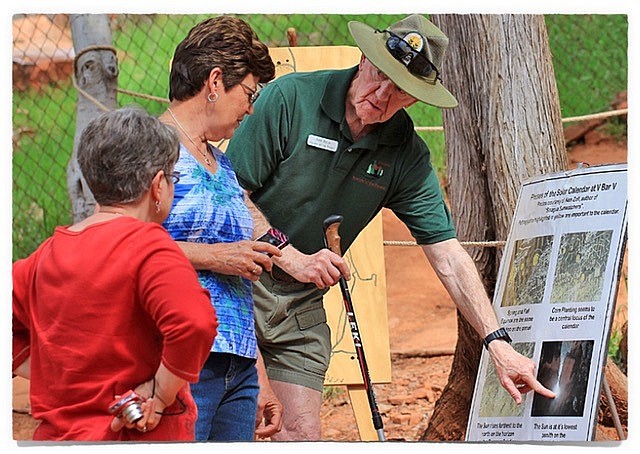 ---
---
On Thursday, Sept. 14 starting at 2 p.m., at 360 Brewer Road in Sedona, Friends of the Forest will host a Welcome Event. This event is free and open to the public, particularly new residents looking for rewarding volunteer opportunities. If you enjoy the unique beauty of Sedona and would like to contribute to maintaining and protecting the Red Rock District, mark Sept. 14 on your calendar.
At this event, you'll learn about Friends of the Forest and the activities you can volunteer for. You'll hear from District Ranger Amy Tinderholt about the value FOF brings to the Forest Service, watch a short video about FOF's first 25 years of service and learn about the benefits of membership.
The mission of Friends of the Forest is to support the Red Rock District of the Coconino National Forest. FOF helps fill the gap between the needs of the district and its limited resources, supplying person-power and financing for projects that the Forest Service would otherwise not be able to afford.
FOF supports the Red Rock District by assisting in the maintenance of trails, educating visitors at the Red Rock Visitor Center, removing graffiti, reducing damage caused by human impact, engaging in research projects as citizen scientists, enhancing the outdoor experience for all, and more. It provides a way for volunteers to establish long-lasting friendships while contributing to the community and making a real difference. FOF offers volunteer opportunities for everyone: inside or out, alone or with others, easy or strenuous.
Friends of the Forest is an all-volunteer non-profit organization that now has over 600 members. Those volunteers put in more hours per year than any other Forest Service group in the country, reflecting a vital, constantly renewing organization making significant contributions to the community.

To help protect and preserve the beauty of Red Rock Country, please join Friends of the Forest on Thursday, Sept. 14 at the KSB building, 360 Brewer Road at 2 p.m. Committee Chairs will be there to answer any questions you may have.
Friends of the Forest is a nonprofit, nonpolitical organization, with membership open to all who are dedicated to maintaining, protecting, and restoring the scenic beauty of our National Forest lands in the Sedona area for the enjoyment and use of present and future generations. For more information about Friends of the Forest, please visit FriendsOfTheForestSedona.org.