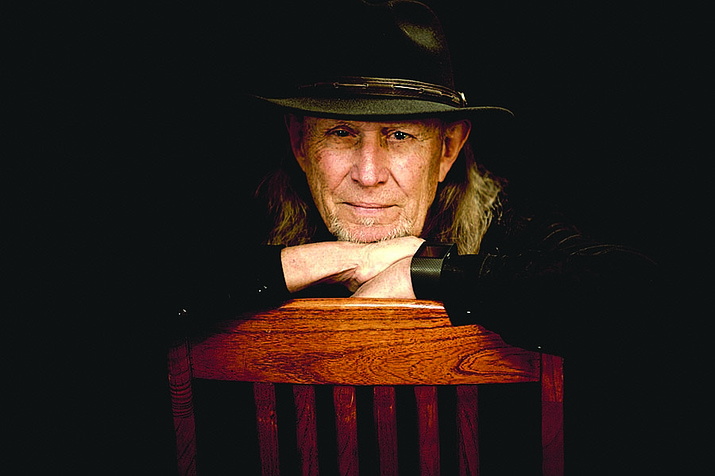 ---
---
Music in the Stacks returns on Thursday, Sept. 14 at 5 p.m. in Camp Verde Community Library's Fireside Room. Music in the Stacks is a showcase of local and national musicians who entertain regularly in Northern Arizona. There are three-to-five different performers during the show, with a rotating variety each month.
September's concert features the folk and rock music of the 60's with "old folkies" Gary Simpkins, Mike Greenleaf, & Mark Bishop Evans.
Gary Simpkins has been around the folk/rock, singer/songwriter scene since the '60's, cutting his teeth on the Open Mic scene in his college days in New Haven. He's played gigs all over the Northeast, notably at the Bitter End in New York City, Club 47 (Now Club Passim's) in Cambridge, the Exit in New Haven, and Salt in Newport (where he opened for Maria Muldaur). Gary moved to Arizona in the '80's and for the past 30 plus years has been playing folk festivals and shows throughout the region in and around the Verde Valley. He has also almost continuously run open mikes since the '60's, including the current weekly version at the library on non-holiday Mondays, and is dedicated to giving new musicians the same mentoring that he had when he started out in New Haven. The monthly Music in the Stacks series that Gary brought to Camp Verde Community Library has been the library's longest most successful adult program.

Mike Greenleaf is a Seattle-born singer-songwriter now living in the Arizona desert and has been writing and performing for over 40 years. His songwriting is influenced by a wide variety of musical styles – at times heartfelt, at times humorous, but always deeply personal and intelligent. Mike's songs capture the genuine experience of everyday reality. His performance style is warm, open, engaging, and unpretentious.
Mark Bishop Evans grew up in Southern California where his major musical influences were Gordon Lightfoot, Peter, Paul & Mary, Bob Dylan, Paul Simon and pretty much any folk, folk rock, or beach music. He has a way with words and melodies, bringing them together in pleasant and poignant combinations. His music is an intriguing blend of Folk, folk rock, and ballads, lyrically rich in emotional content and melodically comfortable like a favorite jacket. After spending 30 years in the Boston area and loving the folk and songwriter community, he has settled in Phoenix and continues to create and perform.
Find the library online at CampVerde.AZ.gov/cvcl. For more information about this or any other library program give us a call at 928-554-8380.