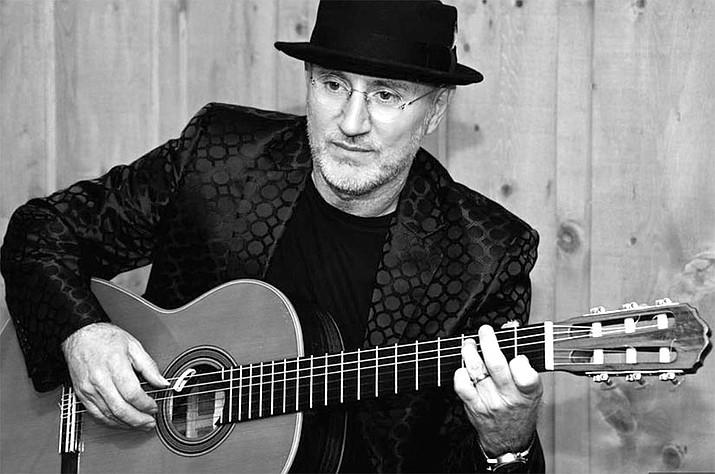 ---
---
Beautiful lighting, a professional sound system and a New York City supper-club-ambiance, turn this upscale restaurant into the perfect venue to see, listen and dance to talented musicians, up close and personal.
On Friday, Sept. 8, from 6 to 9 p.m., it's the Chris Counelis Jazz Band jazzing it up for the head-nodding, finger-snapping jazz aficionados who like their jazz served hot, up-close and personal.
Counelis, is a true master at his craft. Versatile, engaging, talented and inclusive, this musician plays to the audience, especially for those who love jazz.
He grew up surrounded by jazz and Big Band music. And it shows. He studied at Berklee College of Music while still in high school and attended The University of North Texas for four years majoring in Jazz Performance before coming to Sedona and settling down in Red Rock Country.
He will get off the stage during a song and play his sax for delighted audience members gifted with his personal aura and musical virtuosity.
He makes you feel like you and the music are one. Every audience member is special to him.
On Saturday, Sept. 9, from 6 to 9 p.m., it's acoustic guitar master Michel Lucarelli and his band rocking the Sound Bites Celebrity Showroom Stage.
Lucarelli is a finger-picking style guitarist with a great command of lyrical movement and artistic expression. He is known for his diverse and expressive style, blending rock, popular, jazz, classical and Latin, as well as original compositions.
He has entertained in such prestigious venues as: The St. Regis Resort, Caesars Palace, the Italian American Club, MGM Grand, the Historic Arizona Inn, Venetian, Montage, Mirage, Ritz Carlton, and Waldorf Astoria.
He has made numerous radio and television appearances including CBS's Touched By An Angel, and most recently his music was Featured on Warner Brothers Television hit TV show 'Major Crimes'. He has also entertained for industry notables such as Steven Spielberg, DreamWorks, Robert Redford, and Arts & Entertainment.
His music videos on YouTube have received over 60 million views!
Sound Bites Grill also offers live music throughout the week, with local minstrel Sharon Silverstein hosting Wineaux Wednesday on Wednesday, Sept. 6, from 6 to 9 p.m.; Chill on the Hill with Eric & Robin Miller on Thursday, Sept. 7 from 6 to 9 p.m.; and Patrick Ki hosting Jazz & Juice, Sunday, Sept. 10, from 5 to 8 p.m.
Apart from its music offerings, Sound Bites Grill also boasts an extensive menu featuring gourmet food made from fresh, locally sourced ingredients. From signature cocktails to craft beers, the venue has a wide range of beverages that cater to all tastes.
Sound Bites Grill is located at the Shops at Piñon Point adjacent to the Hyatt in Sedona. For more information please visit SoundBitesGrill.com or call 928-282-2713. Some performances are ticketed. Tickets can be purchased via their Website.