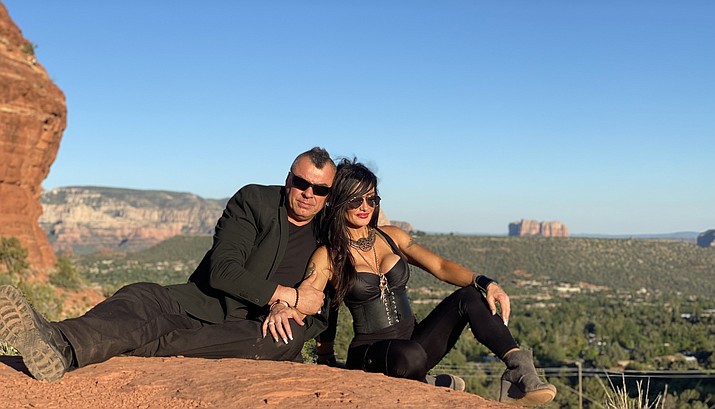 ---
---
Love has a mysterious way of bringing people together, transcending distance and boundaries. In the case of Gianluca Zanna, a former Italian immigrant naturalized American, a songwriter and music producer, and Claudette Lyons, a multimedia artist Sedona's resident, their love story began in the digital realm and blossomed into a beautiful artistic collaboration.
Their enchanting and catchy song, 'Love in Sedona,' not only showcases their musical talents but also symbolizes the magic of love that Luca and Claudette found in Sedona, Arizona.
Connecting through the virtual world of Facebook, Gianluca, and Claudette discovered a profound connection, fueled by their shared love for music. Despite living just three hours apart, in the picturesque landscapes of Sedona, they embarked on an extraordinary journey of creativity and love and they founded the music Duo called 'Love in Sedona'.
Crafting 'Love in Sedona': the song is crafted using analogical real ambiance sounds recorded in the magic of Sedona, while walking in nature, like the sound of birds, blending with the voices of Luca and Claudette, and powered up by a very upbeat dance groove, that once you listen to it, it will mesmerize you into a new dimension with sunny positive lyrics inspired by the magic of Sedona.
Love in Sedona is mixed by Brian Reeves, an award-winning Multi-platinum world-famous record producer and sound engineer who has been behind the projects of artists such as Donna Summer, Giorgio Moroder, Billy Idol, U2 and Simple Minds just to mention some, and the last 16 months Brian has been collaborating in mixing the latest Gianluca Zanna's hits songs with his new Record Label Zanna Record.
'Love in Sedona' is going viral on Spotify, and in just four weeks it broke over 126,000 streaming with no promotion or any live performance.
Luca and Claudette are planning with their 'The Love in Sedona' live project to perform live in music clubs and dance festivals around the world. Their songs are a mix of dance music with hypnotic language (both Luca and Claudette are hypnotherapists too), with the goal to empower the listeners with a message of freedom and love.