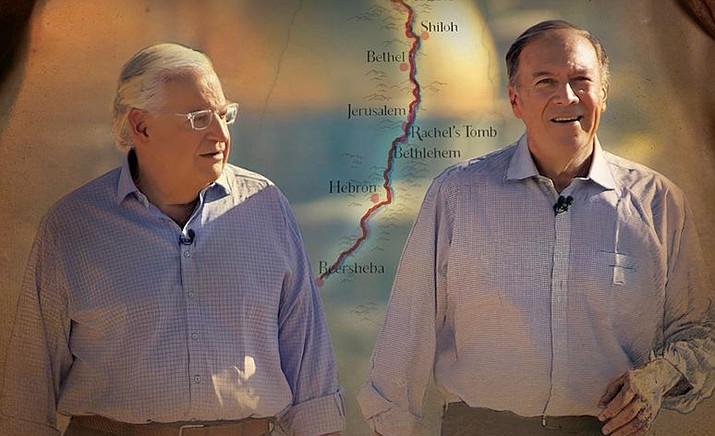 ---
---
The Sedona International Film Festival is proud to join theaters around the world to present the world premiere of 'Route 60: The Biblical Highway' showing Monday and Tuesday, Sept. 18 and 19 at the Alice Gill-Sheldon Theatre.
Carving through the heart of the Promised Land is the Biblical spine of Israel, sometimes referred to as the 'Path of the Patriarchs' and officially designated as 'Route 60.'
A highway of deep historical significance while often the scene of unrest and violence, this 146-mile road of asphalt and concrete begins in Nazareth, Israel's largest Arab city, and ends in Beersheba, one of Israel's hi-tech centers. Running North to South, Route 60 connects ancient Israel with modern Israel, Jews and Christians with Muslims, and Israelis with Palestinians. This trek is far more than a two-lane highway: It is a historic, sacred link to the roots of Judaism and Christianity and the stories of the Old and New Testaments.
Follow world-changing diplomats David Friedman and Mike Pompeo as they venture down this sacred road, treading the very ground Abraham, Jacob, King David, and Jesus once walked.
Discover the history, witness the healing, and realize the hope along Route 60, the Biblical Highway.
'Route 60: The Biblical Highway' will be shown at the Alice Gill-Sheldon Theatre on Monday and Tuesday, Sept. 18 and 19 at 3:30 and 6:30 p.m. Tickets are $15 general admission, or $13 for Film Festival members. For tickets and more information, please call 928-282-1177. Both the theatre and film festival office are located at 2030 W. Hwy. 89A, in West Sedona. For more information, visit SedonaFilmFestival.org.