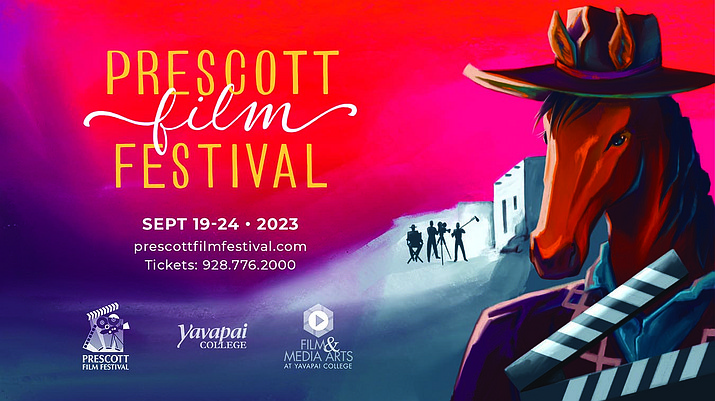 ---
---
The Arizona premiere of 'The Mustangs: America's Wild Horses,' a Robert Redford film; the unlikely biography of a jazz musician; a sweetly comic romance about alien abduction; a moving call to action about connecting in the community, and a harrowing exploration of celebrity's dark side. This year's Prescott Film Festival pairs groundbreaking films from all over the world with historical tributes, thought-provoking workshops, wonderfully off-the-wall celebrations and a six-day celebration of film. Bring your love of movies and your capacity for amazement to the 13th Edition of the Prescott Film Festival, Sept. 19 - 24, at the Jim & Linda Lee Performing Arts Center and various locations across Yavapai College's Prescott Campus.
"I'm really excited about the range of films we have this year," Helen Stephenson, PFF Director and faculty member at Yavapai College's School of Film and Media Arts, says. "Adding a second theater in the [Prescott Campus] Community Room has created a cool space for alternative films. We were able to program some Arizona films, which I was personally thrilled about, as well as a couple of very suspenseful almost-horror films, a French comedy, some truly indie films, and some meaningful documentaries."
This year, the PFF leads with a breathtaking ode to a symbol of the American spirit. 'The Mustangs: America's Wild Horses' follows these graceful giants from their role in Western history to their free-reign existence in America's open spaces and plains. Produced by Robert Redford, Jessica Springsteen and Patti Scialfa Springsteen, 'The Mustangs' uses stunning photography to capture the glory and modern-day struggles of the wild horses that stoke our national spirit and inspire us to this day.
'The Mustangs' is just one of more than 20 PFF screenings that feature romance, comedy, historical gems and societal insights that enthrall and amaze. The PFF's opening night feature, 'Max Roach: The Drum Also Waltzes,' follows the legendary drummer through the creative peaks you know and the personal and civil rights struggles you don't. The film will be followed by an Opening Night Afterparty at the Performing Arts Center, catered by El Gato Azul.
Other films include: 'Two Tickets to Greece,' a breezy French adventure that leads mismatched girlfriends on a journey of discovery across some of the most beautiful terrain on earth. 'Join or Die' persuasively captures America's need to revive our personal relationships and increase our community connections; 'Pianoforte' vividly portrays the tension, rigor and melodic beauty of an international Chopin competition; 'Karen Carpenter: Starving for Perfection' explores the remarkable voice and tragic fate of the 70's pop artist, one of the first public figures to die of an eating disorder; and the memorably titled 'Aliens Abducted My Parents and Now I Feel Kinda Left Out' blends comedy, romance and an X-Files-ish meta story into a captivating tale of discovery. (A full roster of feature films, including screening times, is available below or at the Prescott Film Festival website, PrescottFilmFestival.com)
Screenings and major events will be held at the Jim & Linda Lee Performing Arts Center, on the Yavapai College Prescott Campus, 1100 E. Sheldon Street. The Prescott Film Festival offers a variety of ticket packages. The PFF Platinum Pass ($298) offers reserve seating at all films and access to the VIP Director's Loft. All-Film Passes ($178) and Six-Film Discount Pack ($72) are also available. Individual screenings are $14 general admission, with a 50% discount for students, YC employees and OLLI members. Tickets are available online or at the Jim & Linda Lee Performing Arts Center Ticket Office, open Tuesdays, and Wednesdays, from 9 a.m. – 6 p.m.; and Thursdays and Fridays, from 9 a.m. - 4 p.m. Film trailers and a full festival schedule will be available soon on the Prescott Film Festival website, PrescottFilmFestival.com, and the Jim & Linda Lee Performing Arts Center site, YCPAC.com. For more information, please call: 928-776-2000, or email Helen.Stephenson@YC.edu.