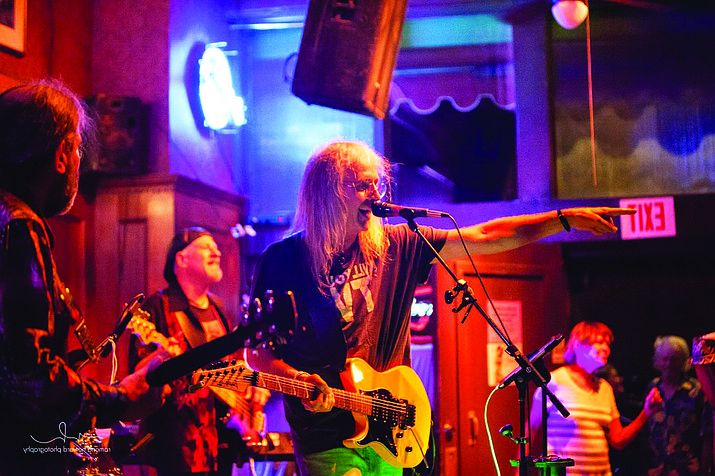 ---
---
Before You Go...
• What: Tommy Rocks the Beatles
• When: Saturday, Sept. 23 7 p.m.
• Where: Clarkdale gazebo
• More Info: TommyRocks.net
The Town of Clarkdale will again be having 'Tommy Rocks The Beatles' perform for the Concert in the Park Series. The outdoor show in Clarkdale will be the final event of the season, and for Beatles fans, it will be a show not to be missed. Last year, Tommy's band performed for a record 1,200 people.
The band features frontman Tommy "Rocks" Anderson on guitars and vocals, keyboardist and vocalist Kyle Scarborough, bassist and vocalist Pablo Richards, drummer and vocalist John F. Kennedy, along with Dale Schold and Glenn Cocoros on backing vocals.

You probably have seen and heard Tommy Rocks: he is a well-known acoustic rock musician who has performed on stages throughout America, and is also the owner of Jerome's music store Tommy Rocks. And while you can catch Tommy performing a wide range of shows with his various bands, he is best known as 'The Beatles Guy' in Arizona.
Singer/songwriter/guitarist Tommy Anderson is a well-known entertainer in Arizona, and has released 19 CDs to date. You can stream and download his latest singles and CDs at his website www.TommyRocks.net , as well as stream his music on Spotify, Pandora, Apple Music, Amazon Music and more. Tommy's YouTube channel is at Youtube.com/c/tommyanderson/videos.
On his musical journey, Tommy was the bandleader and frontman for the popular Arizona Beatles band "Ringo McLennonSon", which covered songs of the Beatles and their later solo careers. After disbanding, Tommy went on to perform solo Beatles shows. He later added friend and bassist Pablo Richards and formed the band 'The Beatless' and released a live CD called 'The Beatless & Friends: John Lennon Birthday Bash.'
Keyboardist Kyle Scarborough has played professionally in the Houston area for the past three decades, playing keyboards for Diunna Greenleaf and Blue Mercy in Houston and Memphis. As a member of The Party Favors, he performed for major corporate galas throughout the Houston area, along with the July Fourth celebrations for the City of Richmond and a variety of local country clubs.
Bassist Pablo Richards (bass and vocals) has been a professional musician since childhood. By the time he was in high school at Agua Fria High School in Avondale, he had his eyes and ears set on being a musician. He has inspired both fellow musicians as well as fans alike as a talented bassist, singer, pianist and guitarist.
Drummer John F. Kennedy( "JFK" ), like the other members of the band, has also been a working musician since childhood. With the others, he attended Agua Fria High School, and performed with his high school band called the Alpha Band. He played in the west valley in several different bands and eventually ended up in the White Mountains, where he played with Malapai, The Rim Rockers, and Blue Tattoo. "JFK" has since moved back to the Verde Valley, where he performs with many local bands.
On top of performing, Tommy owns a recording studio, teaches music, and also owns the music store in Jerome called 'Tommy Rocks', which was featured for the past two years on "Arizona Highways Television Show." His music store is like no other in the nation, and specializes in autographed rock & roll memorabilia, instruments, collectible memorabilia and rare vintage vinyl. You can check out the store on Facebook.com/TommyRocksJerome and online at TommyRocks.com .