Lights are on at CV Sports Complex, but stay off the grass
Originally Published: September 29, 2023 12:03 p.m.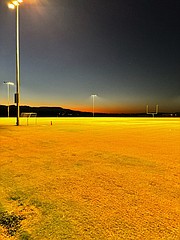 The Dark Sky-compliant lights are up and on for the Camp Verde Sports Complex.
Public Works Director Ken Krebbs said the lights will remain turned on through the night and through the weekend "to complete their burn off."
Also, residents are being asked to stay off the playing fields because they have been overseeded. Krebbs said the field should be avoided until after Oct. 11 to allow for germination.
The Town of Camp Verde has been designated an International Dark Sky Community since 2018. Compliant lighting is meant to minimize light "pollution," so the field lights do not interfere with the starry night sky or cast light into nearby homes.
The LED lights, which have a 25-year warranty from MUSCO, have been in place for a year, but the Town had to wait for APS to bring electricity to the new complex. Public Works also installed LED lights at Butler Park.
Camp Verde's field lights were paid for with a grant from Arizona State Parks & Trails.
---
SUBMIT FEEDBACK
Click Below to: