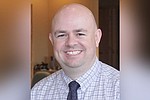 Mark Tufte, VP/Market Manager of Country Bank in Cottonwood, graduated from the Graduate School of Banking at Colorado's 69th Annual School Session hosted at the University of Colorado in Boulder.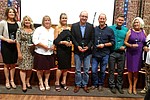 Class XIII graduates of Verde Valley Leadership were honored during a dinner ceremony Friday at the Verde Valley Senior Center.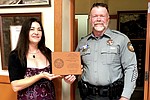 When Allen Muma started with the Jerome Police Department, smartphones were a thing of the future.
By Staff report
July 11, 2019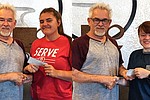 The Randall Hauk Outstanding Youth Citizen Scholarship was recently awarded to two local Mingus Union High School seniors.
By Submitted to the Independent
July 3, 2019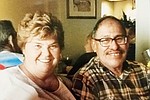 Maxine and Danny Soto were married in Cottonwood July 18, 1969.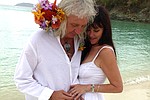 Tommy Anderson of Cottonwood and Joan Sedita of Cornville were wed on the island of St. John, May 23, 2019. Tommy is a local musician and owner of Tommy Rocks music store in Jerome.
CottCottonwood residents John and Beverly Schreiber will celebrate their 60th wedding anniversary on Independence Day. The Schreibers were married in Beverly's grandmother's house in West Allis, Wisconsin, July 4,1959. They are the parents of three children, Jeffrey Schreiber (who passed away in 2018), Dawn Luko and Diana Honsa, and fiancé Clark. The Schreibers have two grandchildren, Keith Luko and Melanie Luko; and three great grandchildren, Analysa Curry, Sierra Luko and James Luko.onwood residents John and Beverly Schreiber will celebrate their 60th wedding anniversary on Independence Day.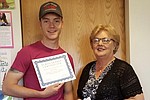 Jacob Shelly is the recipient of Bookmarks - Friends of the Cottonwood Library $1000. scholarship.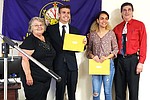 Jerome Elks Lodge #1361 of the Benevolent and Protective Order of Elks in Clarkdale presented scholarship awards to the two winners sponsored by Jerome Lodge.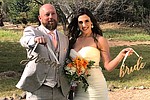 Mr. and Mrs. Martin Satran are pleased to announce the wedding of their son, Robert Satran, to Bethany Haines, April 20, at Mormon Lake.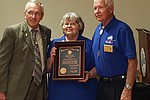 On April 6th, the Jerome Elks Lodge #1361 celebrated its 100th anniversary of serving the communities in the Verde Valley, which includes Jerome, Clarkdale, Cottonwood and Camp Verde. There were 185 members and guests were on hand to join in the celebration, including Arizona Elks State President Mike Murphy and his wife Debra, as well as guests from other lodges throughout the state. Special Deputy Grand Exalted Ruler Jerry Grimes presented a Grand Exalted Ruler Special Citation to Exalted Ruler Janet Leuer, for 100 years of Meritorious Service to the Community. From left: Special Deputy Grand Exalted Ruler Jerry Grimes, Exalted Ruler Janet Leuer and Trustee Chairman Jim Plas.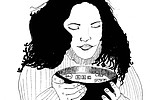 Having a certain level of media literacy and critical thinking skills is key to navigating through this churning sea of lies, echo chambers and — dare I mention it again? — "fake news." Journalists are trained to view every new fact that comes their way with scrutiny. You can, too.
Connie and Sam Morey were married on March 31, 1959, in Bloomfield, New Jersey, while on spring break from Duke University.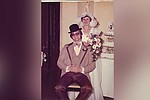 There will be a celebration in the fall at Spook Hall in Jerome combining the 40th Wedding Anniversary of Janice Marie and Steven Michael Pontious aswell as Janice's 60th birthday, and Steve's 65th.The couple was married May 19, 1979, in St.Louis, Missouri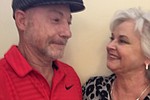 Larry and Virginia (Ginnie) OBrien celebrated their 50th anniversary March 16th.They met at the Baptist church in Prescott and started dating Christmas of 1967.