Chili Cook-off winner Belinda Milburn and her winnings with chili taster Chris Kinderman.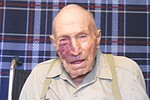 A 90th birthday party for Cottonwood's Locy Rogers will take place Feb. 23, 1-4 p.m., at the Cottonwood LDS Church, 1377 E. Hombre Drive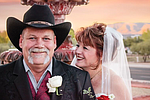 Cottonwood residents Ron Jiles and Julie Dodge were married Nov. 9, 2018, at the Immaculate Conception Catholic Church in Cottonwood.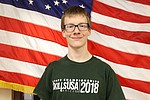 Camp Verde High School has announced that senior Logan Pratt is the school's September Kiwanis Student of the Month.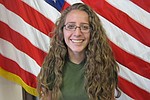 Camp Verde High School senior Reyna Ruvalcaba is the school's Kiwanis Student of the Month for October.
The Cottonwood Police Department promoted two people Monday during a Badge Pinning Ceremony. Officer Scott Dever was promoted to sergeant, and Gareth Braxton-Johnson was promoted to commander.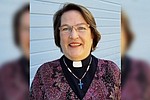 The Reverend Sharon R. Brown will be installed as pastor of Spirit of Joy Lutheran Church, Clarkdale, Saturday, Oct. 13, 1 p.m. during a ceremony in the church sanctuary, 330 Scenic Drive.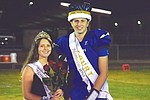 Camp Verde High School senior Dominic Pittman and fellow senior Katelynn Spisak were named Camp Verde's Homecoming king and queen during the halftime ceremonies of the Cowboys final home game of the season. VVN/James Kelley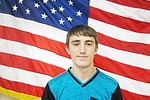 Camp Verde High School has announced that senior Steven Petty is the school's August 2018 Kiwanis Student of the Month.
By From Camp Verde High School
September 20, 2018
Merle and Charlotte Warfield celebrate their 60th wedding anniversary August 12th.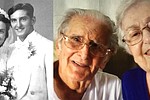 Verde Village residents Ovide and Dorothy (Henry) Mallo will celebrate 75 years of marriage in August.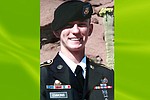 Cottonwood native PFC Caden James Emmons was recently named Soldier of the Year for U.S. Army XVIII Air Borne Corps.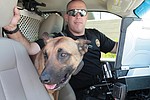 K-9 Deputy Jeff Bowers with the Camp Verde Marshal's Office recently received certification as a Certifying Official by the National Police Canine Association and is now able to train and certify police canines nationwide.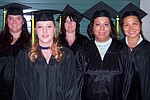 Saturday, May 19, Camp Verde Adult Reading Program students Sydnee Green, Victoria Haverkorn, Elizabeth Adams-Stuart, Bibiana Herrera and Liping Wang, from left, received their GED diplomas at a graduation ceremony at Yavapai College's Prescott campus