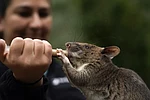 As an ambassador for rats, it's never easy to win over the public. There's that hairless tail after all.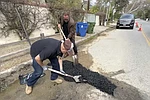 The "giant pothole" that Arnold Schwarzenegger said he recently filled on a street in his Los Angeles neighborhood was actually a trench that had been dug for utility work, according to the city.
A Spanish mountain climber emerged Friday from a cave 70 meters (230 feet) underground where she spent 500 days isolated from the outside world.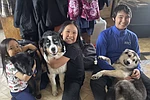 A 1-year-old Australian shepherd took an epic trek across 150 miles (241 kilometers) of frozen Bering Sea ice that included being bitten by a seal or polar bear before he was safely returned to his home in Alaska.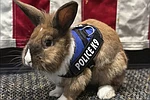 Meet Percy, the police rabbit. Yes, that's fur real.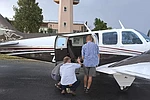 A pilot in South Africa made a hasty emergency landing after discovering a highly venomous cobra hiding under his seat.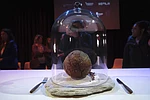 Throw another mammoth on the barbie?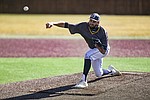 A college baseball player from South Dakota whose prosthetic arm was stolen from his vehicle got it back last Tuesday after it was found at a recycling plant.
By Associated Press
May 15, 2021
A doctor and a team of neonatal medical professionals were in the right place at the right time — helping a Utah woman deliver her baby onboard an hourslong flight to Hawaii.
By Associated Press
May 15, 2021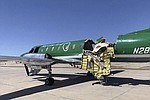 Two small airplanes collided in midair Wednesday near Denver, leaving one aircraft nearly ripped in half and forcing the pilot of the other to deploy a parachute attached to the plane to land safely. Remarkably, no one was injured, officials said.
By Patty Nieberg, Associated Press
May 15, 2021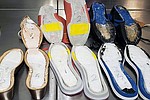 A Georgia woman was caught trying to smuggle $40,000 worth of cocaine in multiple pairs of shoes through the Atlanta airport, according to U.S. Customs and Border Protection.
By Associated Press
May 15, 2021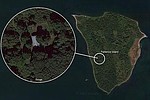 The only house on a small island in Rhode Island's Narragansett Bay — with the unique address of 0 Patience Way — has hit the market for an asking price of $399,900, The Newport Daily News reported last week.
By Associated Press
May 8, 2021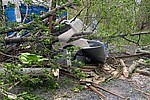 Authorities say a man was rescued after a tree that fell during high winds trapped him inside a portable toilet at Gettysburg National Military Park in south-central Pennsylvania.
By Associated Press
May 8, 2021
Missing out on Thin Mints in the pandemic? A Google affiliate is using drones to deliver Girl Scout cookies to people's doorsteps in a Virginia community.
By Matt O'Brien, Associated Press
May 8, 2021
A fight over the name of Josh drew a crowd from around the country to a Nebraska park on Saturday, April 24, for a heated pool-noodle brawl.
By Associated Press
May 8, 2021