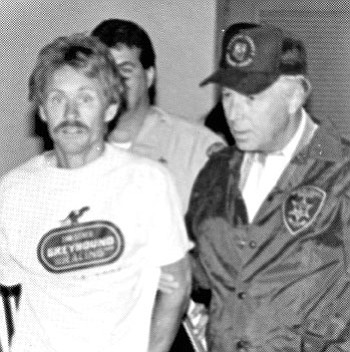 Former Yavapai County Sheriff "Buck" Buchanan escorts Danny Ray Horning to the Camp Verde Jail.
VVN file photo by Dan Engler

Stories this photo appears in:
It was the biggest fugitive manhunt in the history of Arizona. During the summer of 1992, it was the lead story every day, on the hour, for every major news organization in the United States. But when bank robber and murderer Danny Ray Horning was at long last arrested by deputies from the Yavapai County Sheriff's Office on July 5, 1992, the only news organization in the United States to provide on-the-scene coverage of his capture was The Verde Independent.
By Dan Engler
February 12, 2008