Courtesy Photo
Jeff Huson playing in the field for the Chicago Cubs in his final year playing professional baseball.
Stories this photo appears in: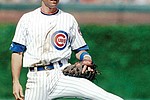 Jeff Huson started playing baseball when he was 5. He would tag along with his brothers. His older brother, Steve, taught him to bat left-handed. The entire family was always his support system.