VVN/Shane DeLong
Janet Napolitano: "I think the Democrats are going to unite behind Obama almost irrespective of who he chooses. He'll look, I'm sure, at a number of possibilities. The Democratic bench is a very deep one.''
Stories this photo appears in: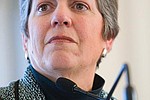 Gov. Janet Napolitano said Wednesday Barack Obama does not need Hillary Clinton as his running mate to unite the party, even as she sidestepped questions of whether she is a contender.
By By Howard Fischer
June 5, 2008