Duane Kirby repeats his insistence that 12th Street improvements be accomplished in the budget, even suggesting contingency money could push the project along.
Stories this photo appears in: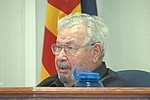 The bottom line is $86.9 million, an $8.8 million increase over the current year. Revenues are expected to be down by 3 percent, but the budget includes a sale tax increase from 2.2 percent to 3.0. Still, Rodriguez is urging caution. The increase in sales tax is intended to be an interim measure until a "more stable revenue source" is found.
By Jon Hutchinson
June 26, 2008