The 24th annual Arizona Flywheelers Engine Show comes to Cottonwood this weekend, March 15-16, in combination with the Southwest Regional Show of the Vintage Garden Tractor Club of America. It is a celebration of our nation's mechanical ingenuity with plenty to see and do for everyone. This year's show is dedicated to Graydon Gaudy, the man largely responsible for bringing the event to Cottonwood.
Stories this photo appears in: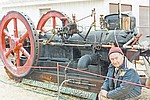 The Arizona Flywheelers is an organization of over 170 enthusiastic collectors and restorers of antique engines, tractors and related machinery from all over the southwest. Once a year they converge at the Verde Valley Fairgrounds in Cottonwood to show off their "toys", put on tractor parades, compete in tractor pulls, and hold silent auctions, raffles and book sales accompanied by on-going old-time entertainment.