Courtesy Arizona State Parks
Dr. William Corbusier is said to have identified Tel Che'e skull when it was brought into the Rio Verde Agency. Corbusier served as the reservation's doctor and is said to have treated Tel Che'e for both malaria and tape worm in the brief time the chief was at on the reservation.
Stories this photo appears in: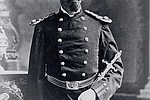 Somewhere along a remote creek bed, somewhere in Central Arizona, sometime in the early 1860s, an unknown prospector lay dead.
By Steve Ayers
November 19, 2008