Capitol Media Services photo by Howard Fischer
Gov. Jan Brewer signs legislation Friday to provide dollar-for-dollar tax credits to corporations that donate money to help pay the tuition of students with special needs at private and parochial schools. The measure was pushed by Brewer and some Republican lawmakers after the Arizona Supreme Court voided a program of direct vouchers in March.

Stories this photo appears in: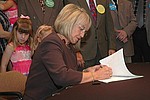 PHOENIX -- State lawmakers gave final approval Wednesday to legislation to create yet another program to divert tax dollars to help some students pay the costs of going to private and parochial schools.
By Howard Fischer
May 29, 2009