Five-year-old Samiyah loves school and says her favorite subject right now is the alphabet. She likes swimming a lot, and says she also likes to climb things "like trees and mountains."
Stories this photo appears in: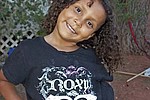 Meet Samiyah, an outgoing 5-year-old girl. Samiyah is imaginative and energetic. She loves to play games and make-believe with her friends.