Reggae at the Clarkdale Park GazeboJuly 17Clarkdale Parks & Recreation is proud to present Foot Solejahs. They will be performing from 7 to 9 p.m. at the Clarkdale Town Park gazebo. This free concert is part of Clarkdale's 2010 Concerts in the Park series. Visit their website to learn more at www.footsolejahs.com.The park is located in the center of the town's historic district on Main Street, between 9th and 10th Streets. For more information please contact Clarkdale Parks and Recreation at (928) 639-2490 or by email: dawn.norman@clarkdale.az.gov.
Stories this photo appears in: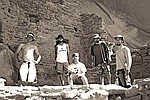 Telephone Etiquette Workshop offered July 21InHouse Trainer Services will offer a three-hour telephone etiquette workshop at Jerona Java Café, 677 E. Mingus Ave.Check for more listings!