Photographer Mal Cooper wishes to create images that have a mysterious or haunting quality and evoke emotion from the viewer. Her goal is to create images that are "non traditional." One of her techniques is to use spot lights at night or dusk to illuminate her subject matter, a technique known as "light painting." Cooper believes in the power of a photograph to tell a story because of the cameras ability to translate reality.
Stories this photo appears in: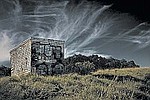 In July Goldenstein Gallery in Uptown Sedona kicks off its dazzling new show "Location, Location, Location."