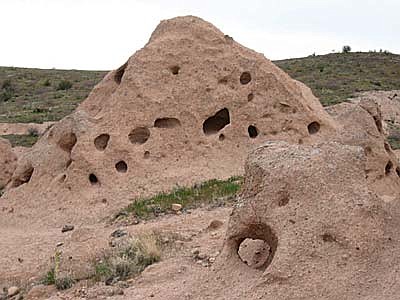 Known locally as the Tee Pee rocks, the Cottonwood Basin Fumaroles are the result of volcanic ash falling on what was once a freshwater lake that covered the Verde Valley. The steam mixed from the lake�s calcium-carbonate-rich water deposited calcite into the ash, forming a cement-like shell around the vents that were exposed when surrounding lake sediments eroded. VVN/Steve Ayers
Stories this photo appears in:
CAMP VERDE - River valleys are by nature drainages cut into the earth's crust by water flowing across the surface over long periods of time.
By Steve Ayers
March 23, 2010