Vuse Baba Shibambo is a Master Hand Drummer, an international touring performer and Recording Artist. Born in South Africa, a Zulu, Shibambo translates into English as guardian of the skins, and the Shibambos were esteemed for their position as caretakers of the tribe's animal skins for clothing and most importantly for their drums.
Stories this photo appears in: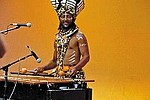 Come and be a part of this Magical, Mystical Journey with Vuse Baba Shibambo and the Rhythm Keepers taking place at Sedona Creative Life Center in the Great Room on Friday, Oct. 15, 7-9 p.m.