Anne James at Beaver Creek BookstoreSept. 17Anne James will be performing at the Beaver Creek Bookstore's Friday Folk Music Night. The event begins at 7 p.m. featuring one hour of local open mic entertainers followed by Anne around 8.Anne James is a singer and songwriter from Payson who performs on various stringed instruments and harmonica. Her style is pretty unique and may be best described as jazzy-bluesy-folk with country thrown in here and there. Anne is also known for her finger style guitar picking. She is a member of the Phoenix based trio The Artichoke Sisters and the Payson based band Section 8.Suggested donation is $5. Beaver Creek Bookstore is at 545 S. Main St., Camp Verde. Call (928) 567-4377.
Stories this photo appears in: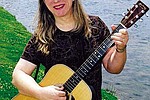 Head Start accepting applicationsYavapai Head Start and Early Head Start, and NAEYC accredited program is now accepting applications for the 2010-11 school year.Check for more listings!