A herd near the Granite Dells in Prescott.
Stories this photo appears in: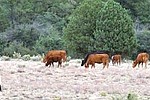 Ranchers and farmers hardly ever intend to be in the land business, but many who have been around a while find themselves in that position. And when Andy Groseta talks about keeping a family business in the family, he is talking about estate taxes, a subject many folks who work the land don't look into until their personal suns are moving toward the horizon.