For the second time in just over two years, the U.S. Fish and Wildlife service has refused protection under the Endangered Species Act to the desert nesting bald eagles, many of which nest and raise their young along the Verde river and its tributaries.
Stories this photo appears in: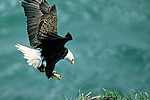 U.S. Fish and Wildlife Service has once ruled again that Arizona's desert nesting bald eagles do not warrant protection under the Endanger Species Act.
By Steve Ayers
April 24, 2012