More insurance companies are providing at least partial coverage of hearing aids. Check your coverage by calling the toll free number on the back of your insurance card.
Stories this photo appears in: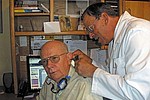 In a recent study reported by the Better Hearing Institute, 53 scenarios were presented to 4,000 hearing impaired people who chose not to purchase hearing aids.
By By Ronald Kuglitsch, BC-HIS
August 17, 2012